More Pictures from the assembly today....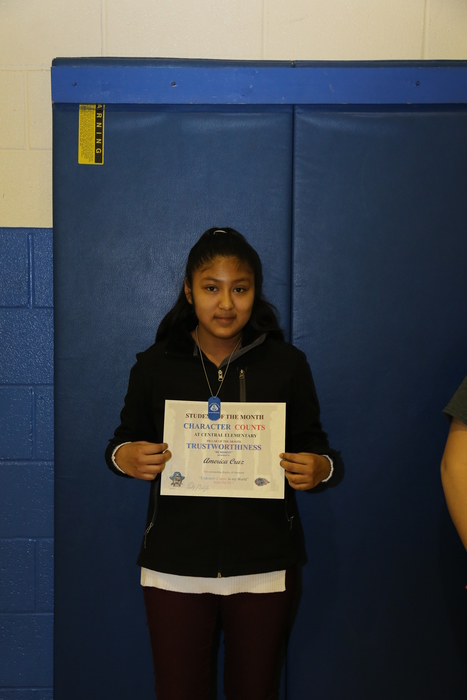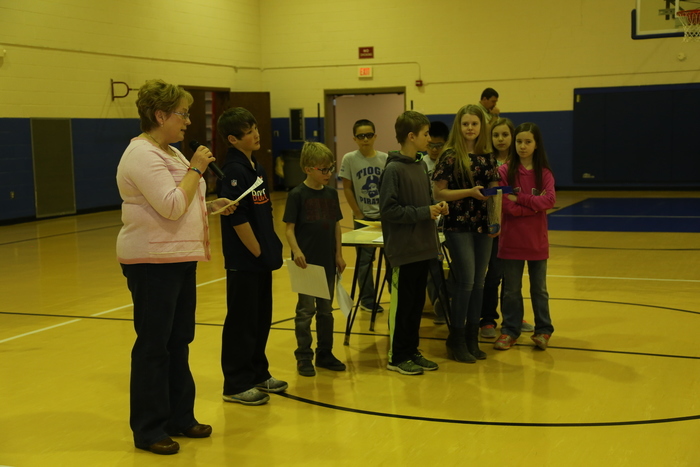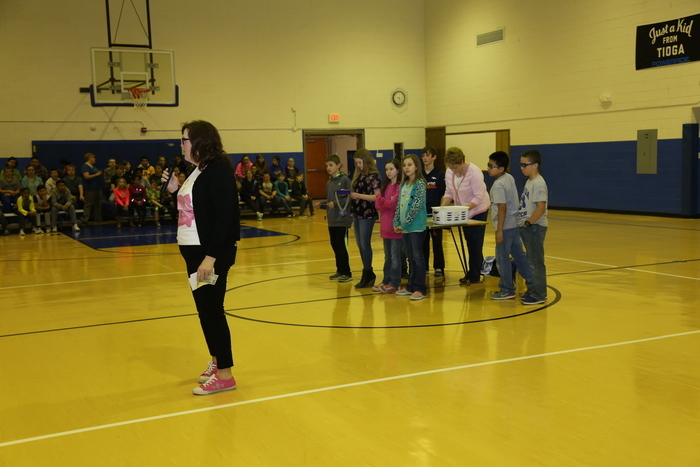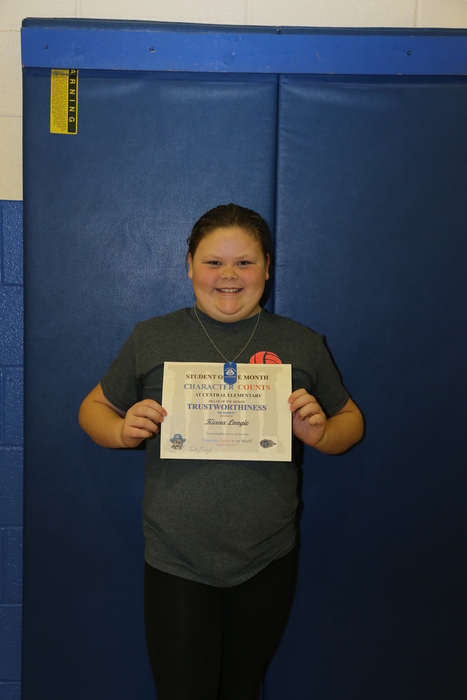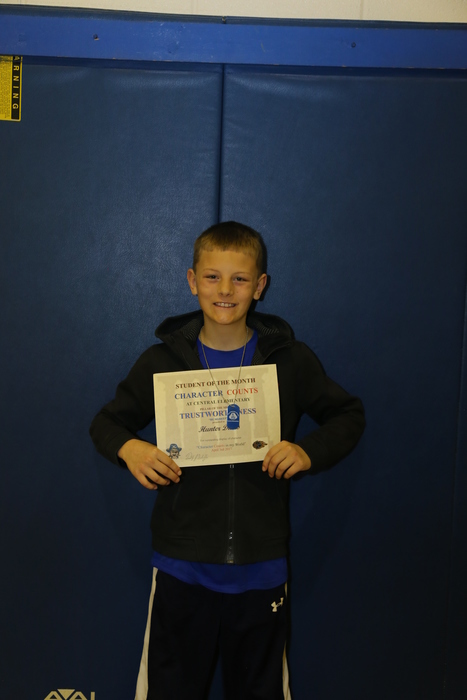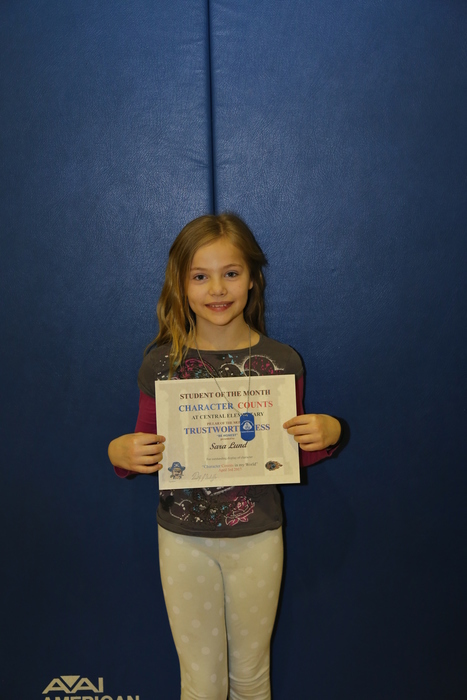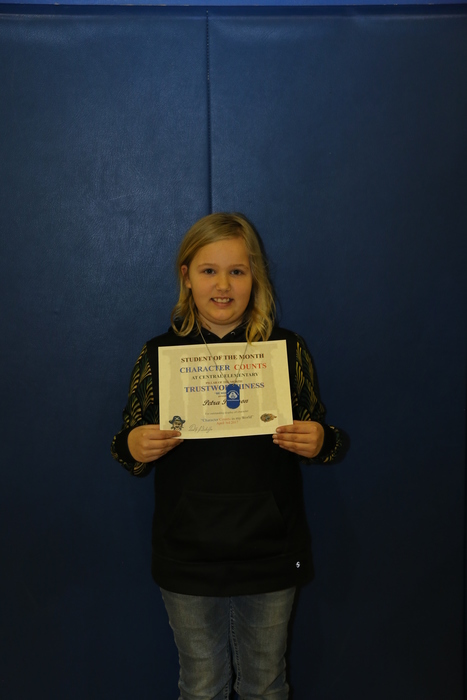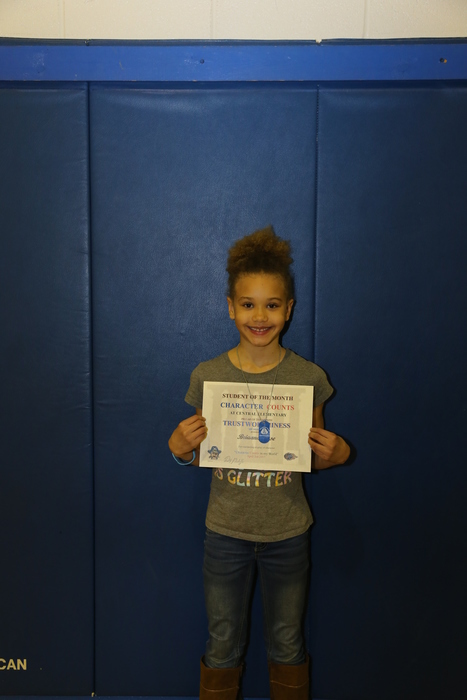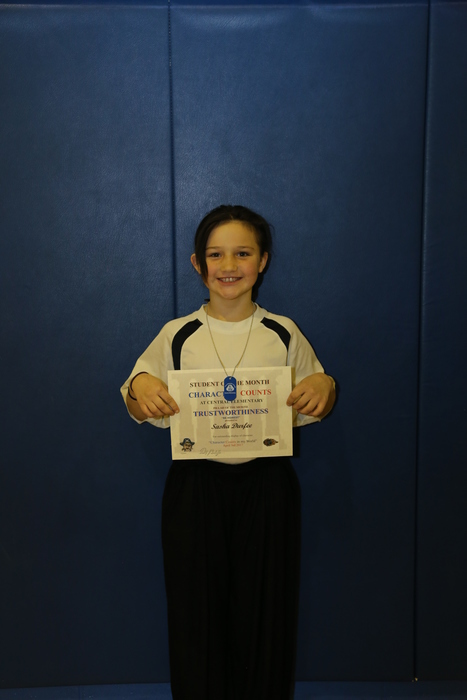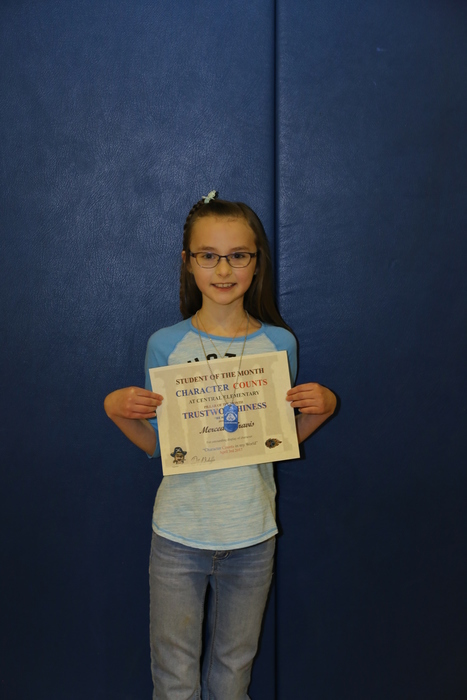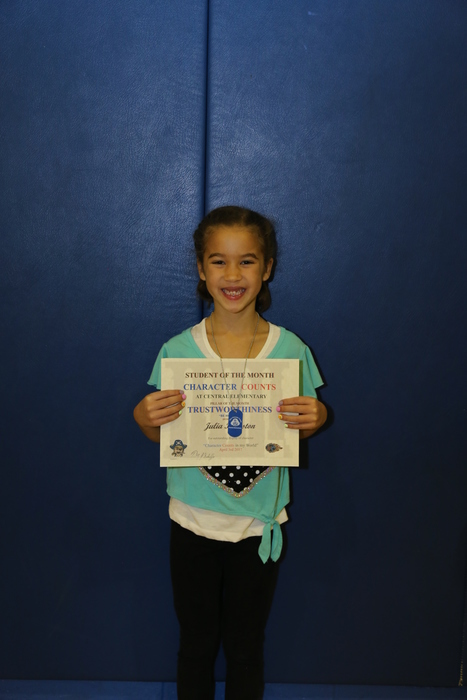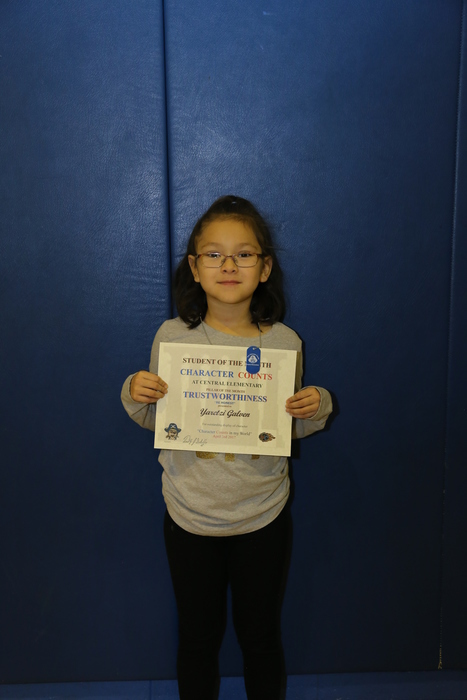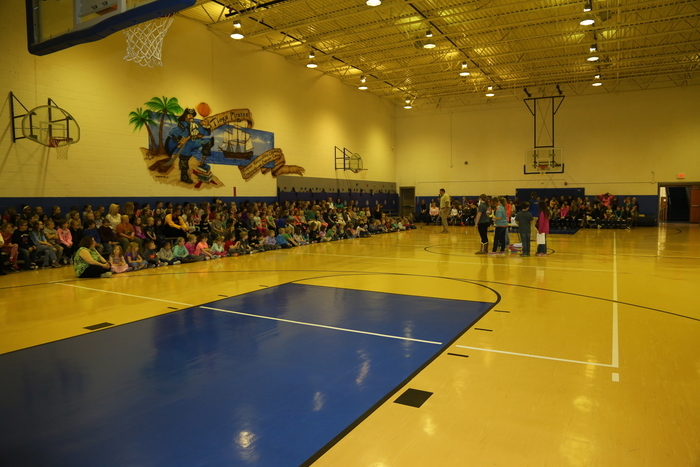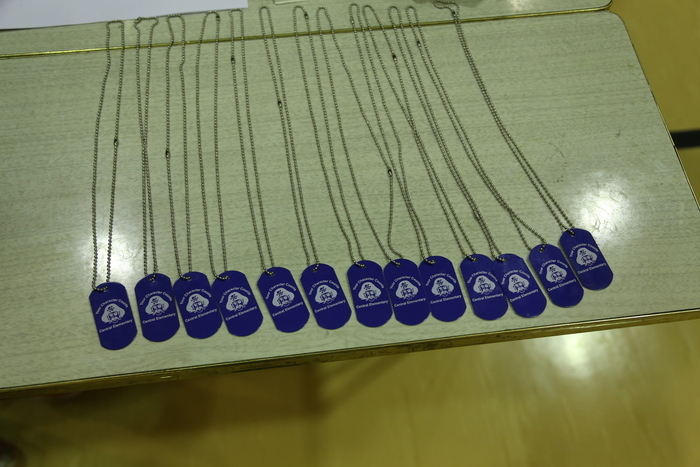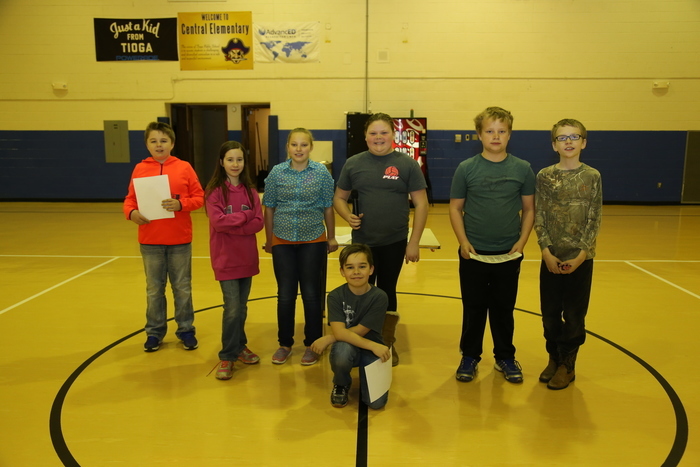 CSOTM at Central today was trustworthiness. Congrats to the following winners: KM-Harley, Knudson, KG-Jenna Holmen, 1N-Yaretzi Galven, 1D-Julia Kingston, 2S-Mercedes Travis, 2L-McCoy Jorstad, 3I-Sasha Durfee, 3K-Brianna Rose, 4G-Petra Peterson, 4H-Sara Lund, 5M-Hunter Davis, 6O-Kiana Longie, 6E-America Cruz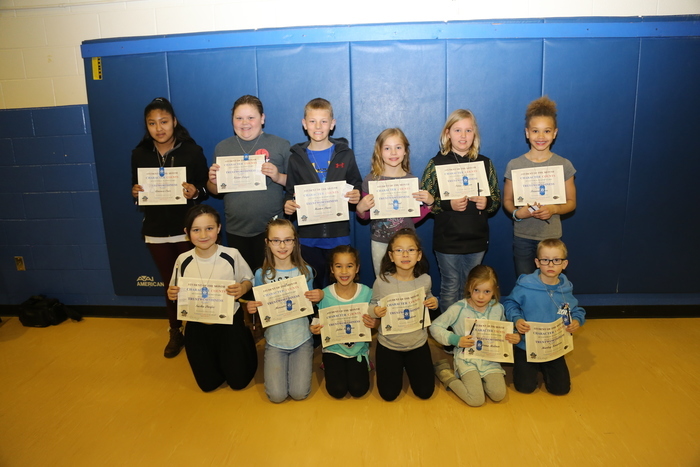 Mrs. Sparks recognized 4 students with banks and two of them won money to put into their piggy banks. Congrats Dovelynn Martinson, Baylee Rieniets, Amanda Kingston and AriAnna Post.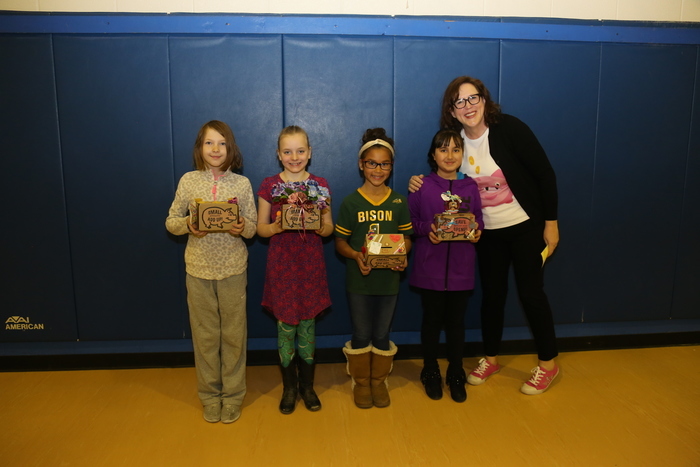 "READING IS MY SUPERPOWER!" TIOGA CENTRAL ELEMENTARY *** READING MONTH *** MARCH 2017 Winners in each grade level were determined by an AR report that lists the total number of words read for the month of March. Students also had to average 85% or better on their AR quizzes. The top three readers in each grade level will receive an "I Read. What's Your Superpower?" medallion. First place will receive $20 in Book Bucks, a sports bag & a mini pizza from Pinnacle! Second place will be awarded $15 in Book Bucks, and a water bottle! Third place will receive $10 in Book Bucks & a magnetic bookmark! The Book Bucks can be used at our Scholastic Book Fair in April or on a classroom book order. Kindergarten 3rd place – reading 4,033 words – Kylee Dye 2nd place – reading 4,447 words – Kaylee Dye 1st place – reading 4,829 words – Kingston Rose Grade 1 3rd place – reading 3,185 words – Chrisshon Williams 2nd place – reading 5,875 words – Piper Moberg 1st place – reading 9,889 words – Brinley Barstad Grade 2 3rd place – reading 20,954 words – Abagail Ferguson 2nd place – reading 28,764 words – Madison Eraas 1st place – reading 70,899 words – Kambree Johnson Grade 3 3rd place – reading 69,296 words – Wyatt Rice 2nd place – reading 87,569 words – Emma Melberg 1st place – reading 244,209 words – Claire Lakey Grade 4 3rd place – reading 241,287 words – Petra Peterson 2nd place – reading 251,143 words – Brennan Johnson 1st place – reading 280,431 words – Isaac Koehlinger Grade 5 3rd place – reading 162,848 words – Kasey Odegaard 2nd place – reading 295,315 words – Katie Person 1st place – reading 463,655 words – Kennedi Keever Grade 6 3rd place – reading 448,012 words – Brayden Fosburgh 2nd place – reading 1,191,843 words – Ryne Skabo 1st place – reading 1,274,557 words – Gracie Nutt In total, students in Kindergarten through Grade 6 read 13,397,688 words during Reading Month!! That is an increase of over 5,770,000 words from last year! Awesome job, everyone!! CLASSROOM COMPETITION We also had a competition to see which classroom could collect the most Box Tops & Campbell's Soup labels. The second place class will receive $25.00 in Book Bucks to purchase books for their classroom library & that class is……Mrs. Germundson's Kindergarten class! The winning class will receive a popcorn & pop party and $50.00 in Book Bucks to purchase books for their classroom library. And that class is......Mrs. Grubb's 4th grade! Thanks for a great Reading Month!! Keep Reading!!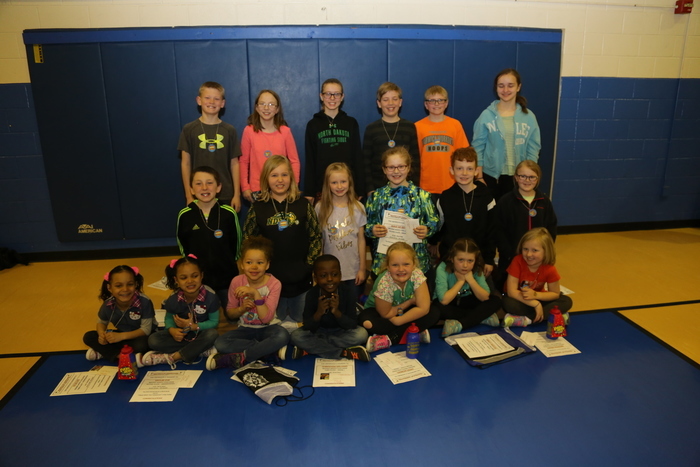 The prom grand march begins at 8:00 tonight (Saturday) in the THS gym! The public is invited to attend. See you there!

Emma Melberg and Claire Lakey (3rd Grade) reading after completing state testing.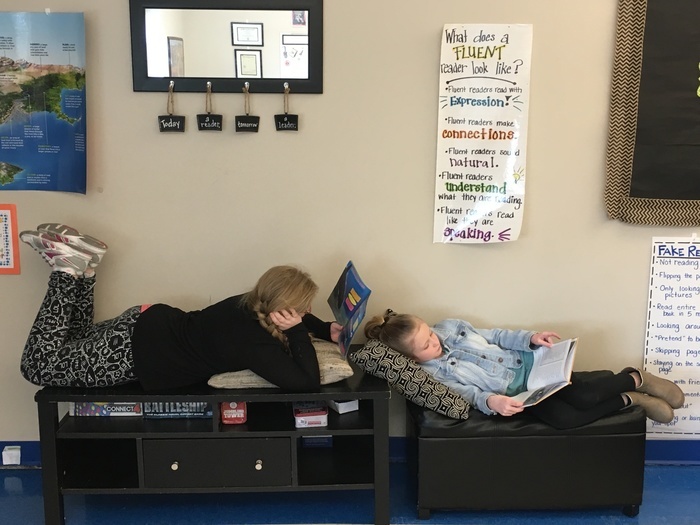 Miss Caitlin Gunderson saying the Pledge of Allegiance with third grade on her last day of student teaching.

Miss Caitlin Gunderson saying the Pledge of Allegiance with third grade on her last day of student teaching.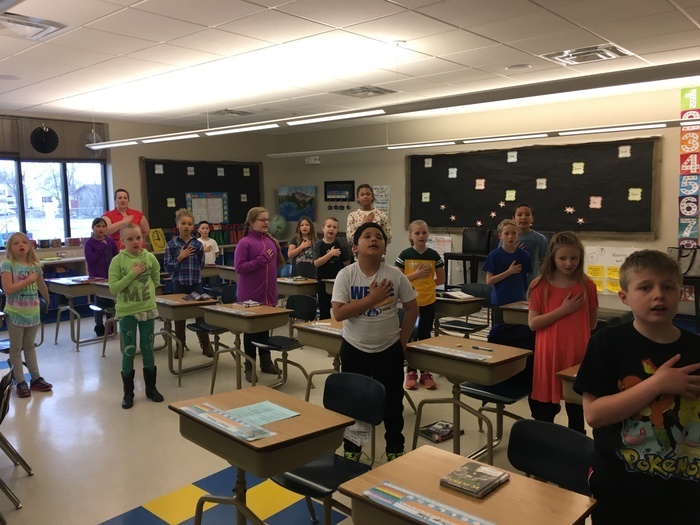 3rd grade students relaxing with books when finished with state testing for the day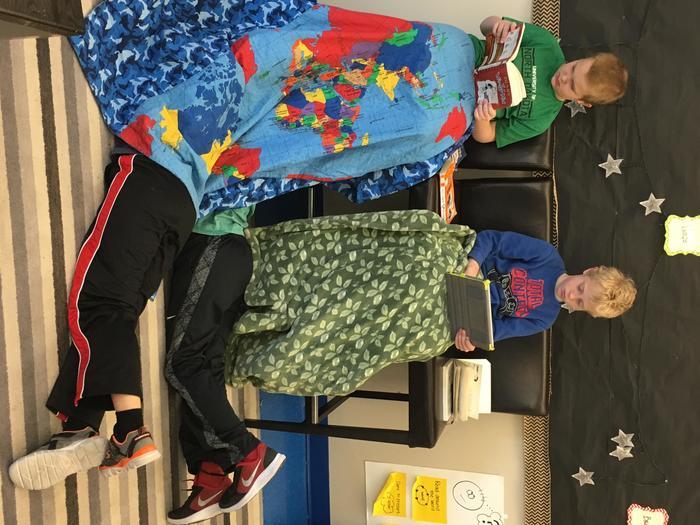 The 2017 Letterperson's Awards Banquet will be held April 4 @ 6 p.m. in the gym. All letter winners, drama/speech participants, and their families are invited to attend. A meal will be served.
Congratulations to Carolyn LaBar, Sara Freborg, Shawn Postovit, Zachary Luallen and Tanner Roloff for having the highest scores for Williams County in the North Dakota Know Your State Test. They will be going on to compete in Bismarck, April 24 against students from all over North Dakota.

Stella Miller in the Bat Cave! Reading month @ Central Elementary has the theme "Reading is our Superpower"!

Parents of Central, When dropping off or picking up your child: a) DO NOT PARK IN THE MIDDLE OF THE ROAD, PLEASE PULL OFF TO THE SIDE. This is a big safety issue for not only your child, but others who are driving. b) You can drop off on the playground or any of the three doors on the West side of the school. Door #1, #7 & #8 open at 8:00am. c) Please do not make U-turns in the street by the school during school hours. d) Please drive slowly in the school zone. e) In the mornings you may park in the yellow to drop off students. In the afternoon please wait till buses are gone and then you may pick up in the yellow. f) Please do not park in front of people's driveways or in their driveways.

Parents please make sure that you pull over to the side of the road to drop off or pick up your students. We have too many parents stopping in the middle of the road to drop off and pick up. Please take the time to pull over and use caution. Thanks

Tioga Rec Council is excited to announce we will be hosting a 3-day Woodside-Moormann Live Your Dreams basketball camp in Tioga July 6th - 8th! There will be a morning session for 3rd-6th graders and an afternoon session for 7th - 12th graders (all grades are what your child will be entering in the fall). Tioga Rec council has decided to pay for 85% of all Tioga children's registration fees, bringing the camp cost to just $25 for 3rd-6th and $35 for 7th-12th. Registration will be solely open to Tioga students for the next 2 weeks. After those 2 weeks, children from any town may register at full price. Space is limited! Register today!! Questions please call Andrea Keever @ (701) 648-9763. Link below.
http://www.woodside-moormanncamps.com/…/3166104-tioga-baske…
Tioga, ND Tioga children and residence. This deal last 2 weeks. Regular price of $162/camper will be charged to Tioga residence after the two week period.) woodside-moormanncamps.com

Reminder to Rec wrestling and basketball participants/parents to enter Door #8 (which is the middle door) for all practices. Door #1 will be locked. Thanks

Ms. Ornelas is home sick, so the bake sale is postponed to Monday, March 13th.
The THS vocal students held their precontest recital on Wednesday. They compete March 13 in Williston.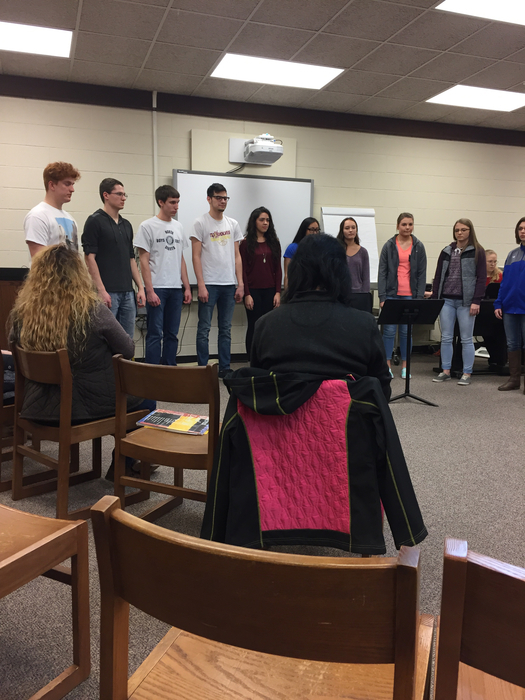 Central Parents/Students, looking for books to read. We have a subscription to tumblebooks.
https://www.tumblebooklibrary.com/
username: nodakelem password: books Enjoy reading and using tumblebooks. Thanks