Mrs. King's class had a blast taking the first tour of the new museum!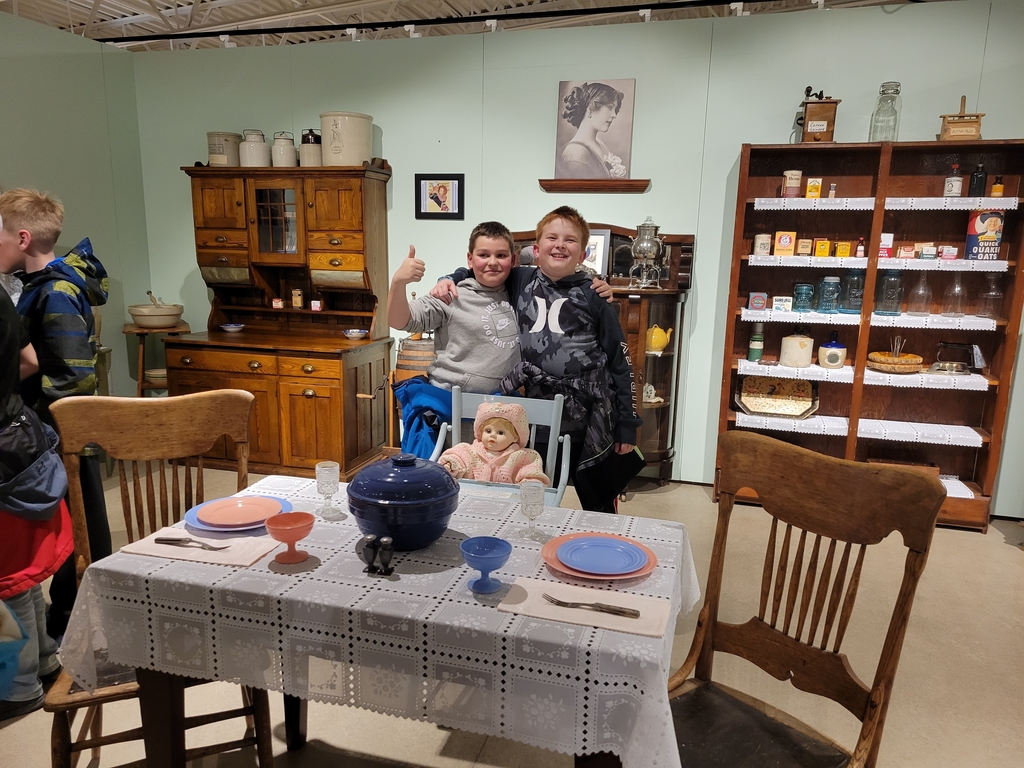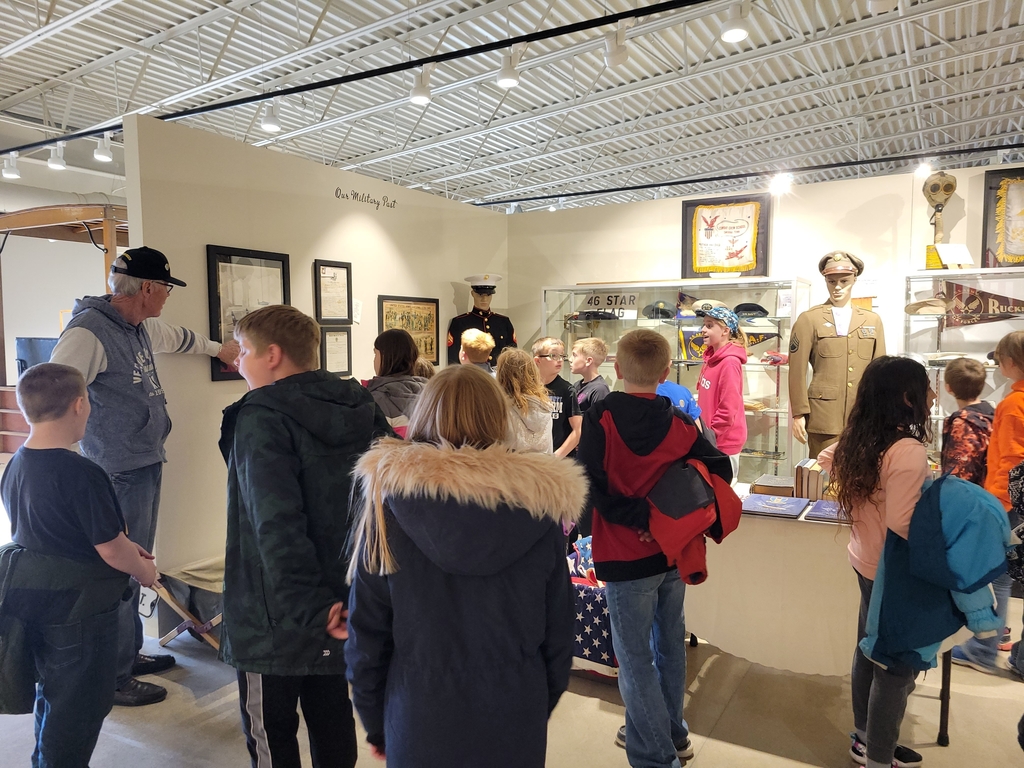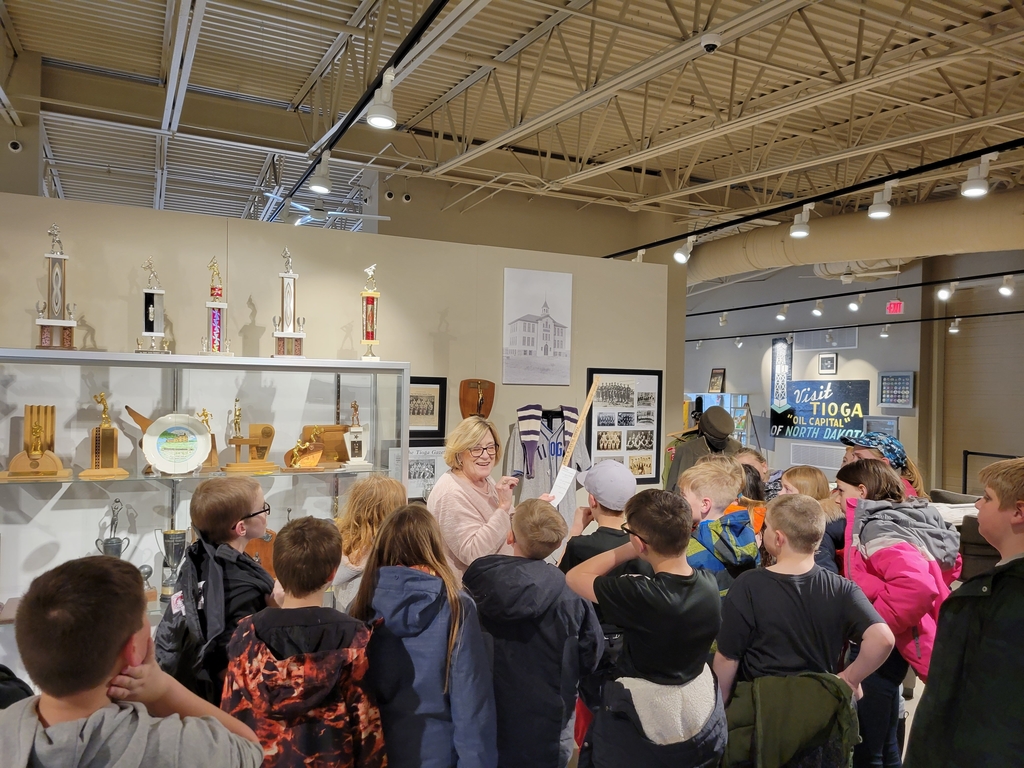 Congratulations Gracie Nutt on becoming ND FCCLA VP of Community Service!  Tioga FCCLA Members Emma Taylor, Gracie Nutt, and Mandy Oster attended the 75th Annual State Meeting.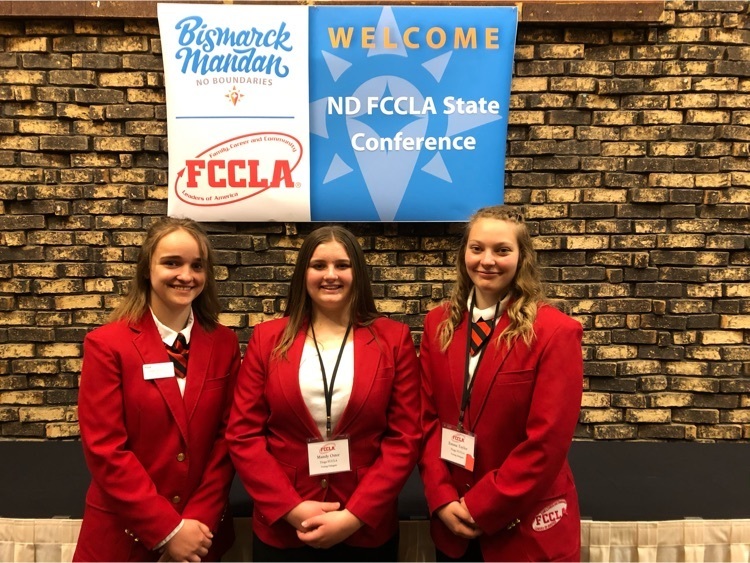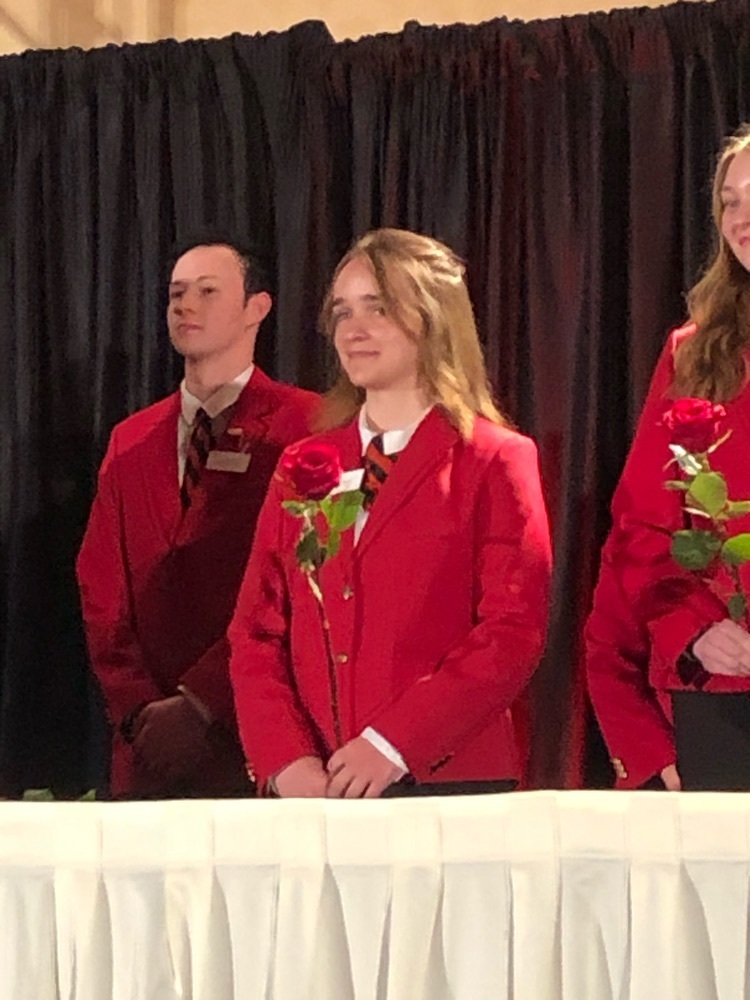 2021 Scholastic Book Fair Tioga Central Elementary Our Scholastic Book Fair will be open for student-only sales during school hours on April 21st, 22nd & 23rd. Unfortunately, no public sale hours will be available this year. Payment for purchases can be made with cash, check (payable to Central Elem.), Book Bucks awarded for Reading Month, or with a new secure digital payment option called eWallet. The Scholastic Store online & an interactive Virtual Book Fair are also now available to shop from our school's Book Fair homepage. To access our homepage to set up an eWallet account or to shop the Scholastic Store online or Virtual Book Fair, simply go to scholastic.com/fair & type in our zip code 58852. Please remember that all in-person & online sales benefit our school! Thank you for your support! Enjoy the Book Fair!

Greetings! The Great Plains Food Bank Mobile Food Pantry will be stopping in Williston on Wednesday, May 5th. See attached flyer. Hunger is an issue that we can do something about. Here are several ways you can help: Volunteer! Volunteers are CRITICAL right now – we need you! o REGISTER HERE! Once you are registered you can sign up for a slot at a Mobile Food Pantry near you! Spread the word! Post the flyers around town, share the attached JPG on your social media networks, or talk about the events with those you know! Respond and share to Facebook event links to get updates and reminders! Anyone in need of food assistance from any community is welcome to attend! We will ask clients to complete a short intake form onsite, then drive through the distribution line. We will ask clients to remain in their vehicles at all times and wear masks while interacting with staff and volunteers. We welcome those who cannot attend to designate someone to pick up for them. Volunteers will be asked to sanitize, wear masks, and follow social distancing guidelines. Thanks for your help in addressing hunger in your community! View our website for all upcoming distribution information. If you wish to be removed from this list, please let me know. Zoe Absey Project Specialist Great Plains Food Bank 1720 3rd Ave. N, Fargo, ND 58102 Direct: 701.793.4874 GPFB Horizontal Cropped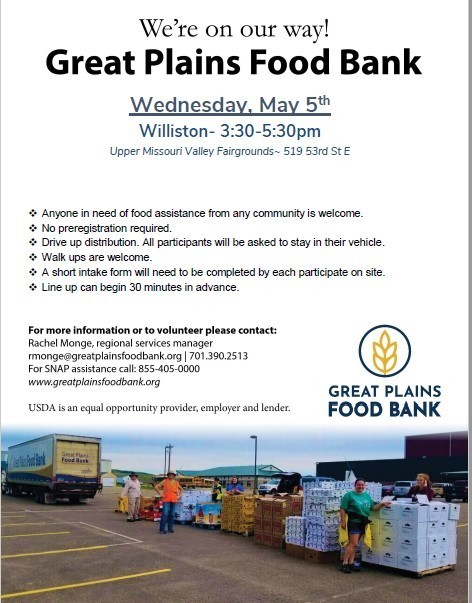 2021 Prom Royalty Candidates Prom King and Queen will be crowned Saturday, April 17th. Grand March starts at 8pm. The public is welcome. $2 admission.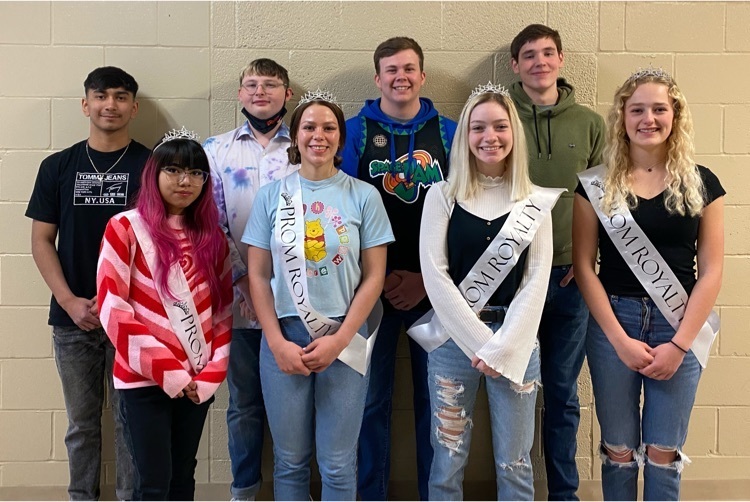 Grades 4-6 GBB/BBB games in Lignite have been cancelled. There will be practice with Girls at 5:30pm at Central. There will be practice with boys at 6:30 at Central. Any questions contact coaches.

The University of Mary is putting on a volleyball camp in Tioga! Dates: June 2-4 Times: 9am to 12pm--Grades 2-6 1pm-4pm-- Grades 7-12 (grade you are entering in the Fall of 2021) Where: Tioga High School Cost: $90 per camper Forms, Cash, or checks can be given to Mrs. Mosley (teacher at Central Elementary). Checks made payable to UMary Volleyball. All campers will receive a T-shirt. **Your child should be bringing home a form this week. If you need another form please contact Mrs. Mosley and she can get you another copy. (
tara.mosley@k12.nd.us
) We are only opening this camp up to Tioga for the time being.**

There will be no Trap League shoot today. Don't blow away, but enjoy the moisture.

Good Afternoon and Happy Thursday! My name is Cody and I am the Sponsor Experience Manager for the Bismarck Larks. I wanted to send you some information on a program that we are doing to recognize teachers for their amazing efforts. This program is called Kid's Choice: Teacher Edition. We are looking for students from all around the state to tell us about their favorite teacher. Does your teacher play cool math games? Give you extra free time? Or how about helps you with your math problems? We want to hear about it. The first 100 teachers that are nominated will receive (1) free ticket to Kid's Choice: Teacher Edition night at the ballpark. From those 100 we will narrow the nominations down to 5. Each of those 5 teachers will receive: An virtual or in person assembly recognizing said teacher (2) Free tickets to Kid's Choice Awards: Teacher Edition Night at the ballpark (Friday, June 11th) On-field recognition during the game with the student who nominated them A personalized Larks Jersey Featured Story in the Larks Gameday program One of those 5 will then become the Larks Teacher of the Year and will receive: A $1,000 STEM technology grant for their school A $250 gift card for school supplies (1) FREE ticket to the Lignite Energy Council Teacher of the Year seminar To nominate a teach your students can do one of the following: ONLINE: Submit your nomination form on the Larks Website (Link below) BY MAIL/EMAIL: Fill out attached submission form and send it back to me at this email address or by mailing/dropping off at Larks Front Office. VIDEO: Create a video telling us what makes your teacher the best (video submissions will have the chance to be featured on the Larks social media platforms) Your students can learn more by visiting the Larks website link below. I have included a flyer complete with registration form. If you have any questions please don't hesitate to reach out.
https://northwoodsleague.com/bismarck-larks/2021-lignite-energy-council-teacher-of-the-year/
We truly appreciate your help spreading the word. Can't wait to celebrate all the wonderful teachers North Dakota has.

More Reading Month Pictures from Central.....Congrats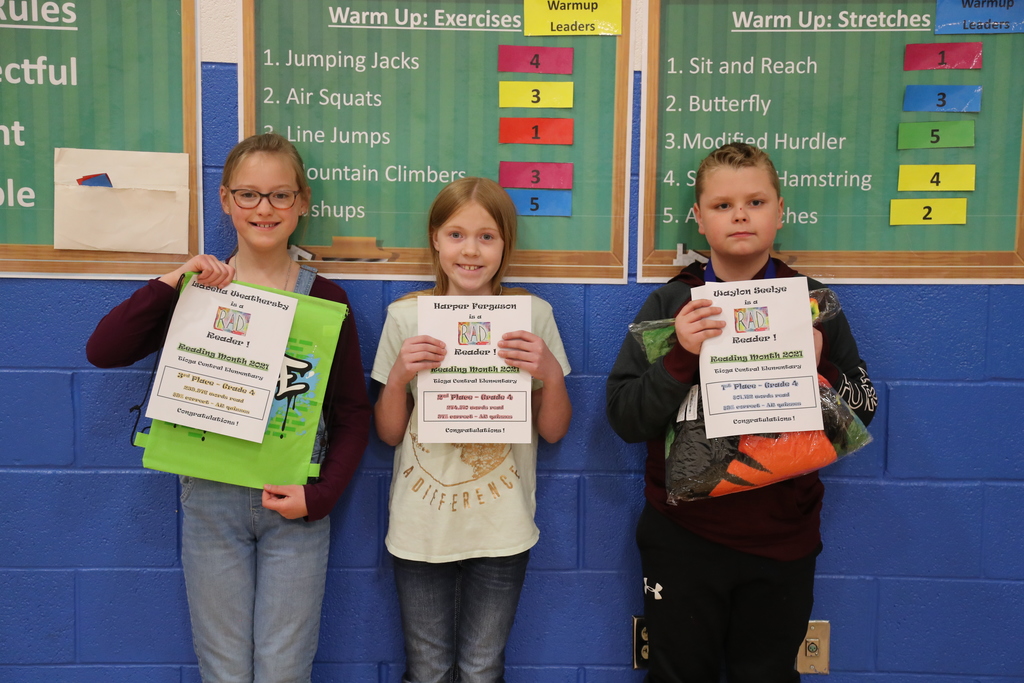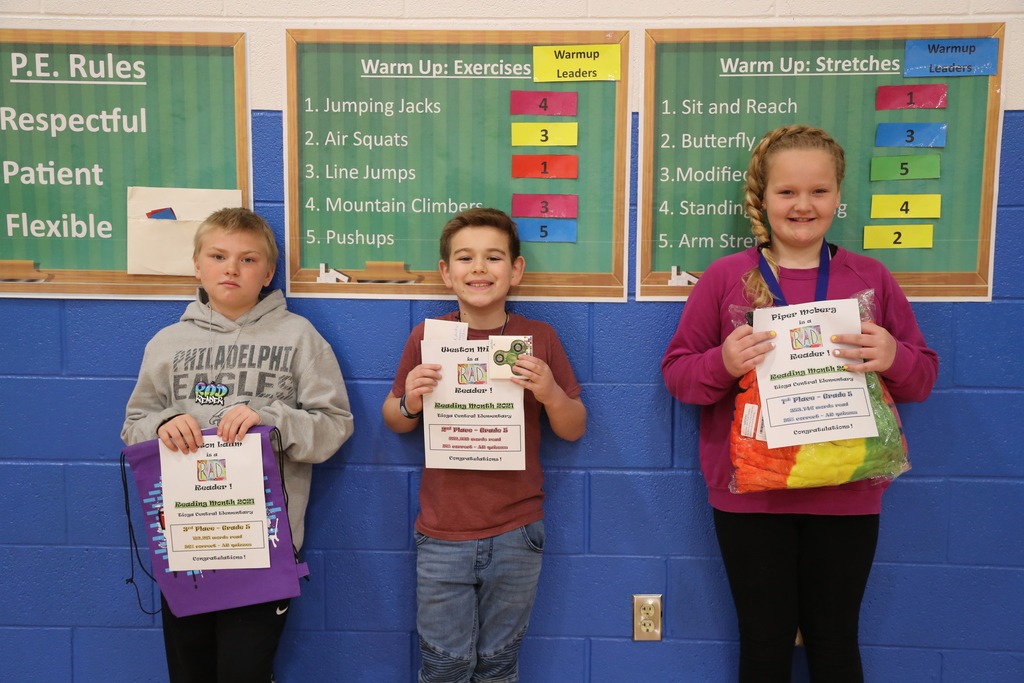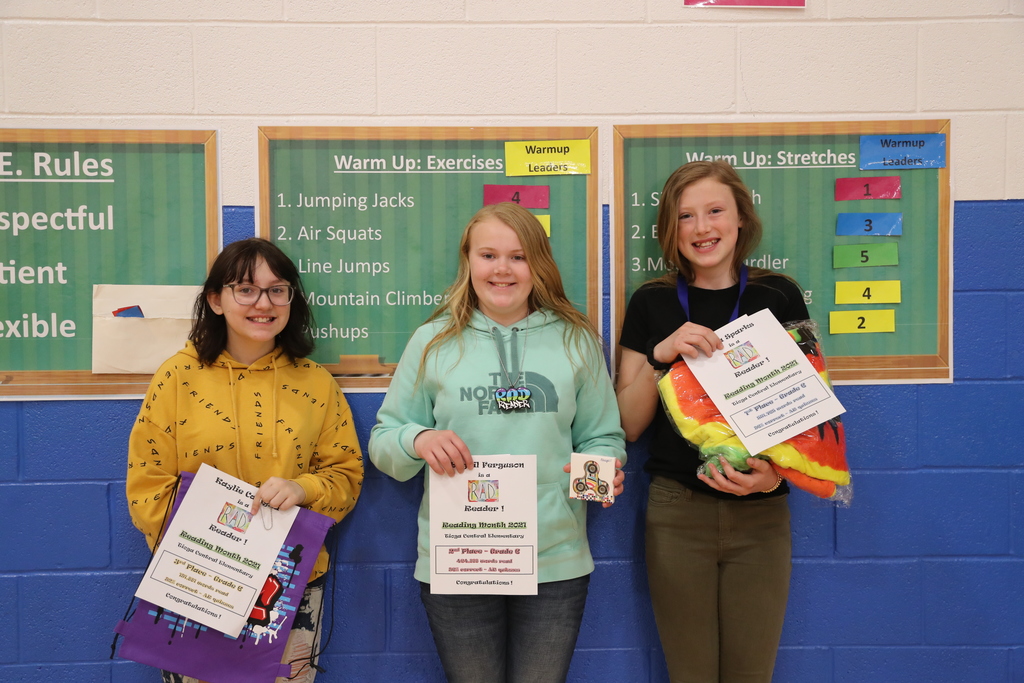 This year, during Reading Month, Central had the fun addition of the Bismarck Larks Reading Program! Prizes included bookmarks, pencils, erasers, a Medora Zip Line pass, Dakota Zoo pass, a free kid's buffet at the Pizza Ranch & a ticket to a Bismarck Larks game! Students at Central earned prizes for 182 singles, 150 doubles, 126 triples & 102 Home Runs! Central also had our individual reading competition that had students in each grade level competing to see who could read the most words while averaging 85% or better on their AR quizzes. The top reader in each grade level received $20 in Book Bucks, a Reading Achievement gold medal, a personal pan pizza from Pinnacle & a tie dye fleece blanket! Second place was awarded $15 in Book Bucks, a "Rad Reader" medallion, a certificate for an ice cream cone from the Soda Shoppe & a fidget spinner! The third place reader received $10 in Book Bucks, a "Rad Reader" medallion & a drawstring backpack! In total, Central students read 11,298,601 words & took 3,401 AR quizzes during Reading Month! Individual Awards Kindergarten 1st place – reading 10,146 words - Parker Germundson 2nd place – reading 6,739 words – Noah Claycomb 3rd place – reading 6,249 words – Norah Hill 1st Grade 1st place – reading 62,294 words – Finley Davis 2nd place – reading 47,280 words – Hadley Mosley 3rd place – reading 45,265 words – Harlow Moberg 2nd Grade 1st place – reading 154,599 words – Maya Loveridge 2nd place – reading 38,605 words – Carson Placek 3rd place – reading 32,918 words – Memphis Skalicky 3rd Grade 1st place – reading 245,694 words – Easton Rehak 2nd place – reading 102,743 words – Axel Peterson 3rd place – reading 36,427 words – Emma Alberts 4th Grade 1st place – reading 801,182 words – Waylon Seelye 2nd place – reading 274,810 words – Harper Ferguson 3rd place – reading 239,976 words – Isabella Weathersby 5th Grade 1st place – reading 353,746 words – Piper Moberg 2nd place – reading 252,339 words – Weston Miller 3rd place – reading 182,261 words – Weston Lalim 6th Grade 1st place – reading 551,765 words – Kiya Sparks 2nd place – reading 464,888 words – Abagail Ferguson 3rd place – reading 191,881 words – Kaylie Caniglia Classroom Competition We also had a competition to see which classroom could have the best average of correct answers on their AR quizzes for the month of March. 1st Place 2 way tie with a class average of 92% correct answers! Both of these classrooms received $50 in Book Bucks to purchase books for their classroom library & a pop & chips party. Each student also received a graffiti stuffed bear! Mrs. Germundson's Kindergarten class Mrs. Meyer's 1st grade class 2nd Place 3 way tie with a class average of 91% correct answers! Each of these classrooms received $25 in Book Bucks to purchase books for their classroom library. Mrs. Volz 1st grade class Miss Heier's 4th grade class Mrs. Judkins' 6th grade class Congratulations to all of our Reading Month winners! KEEP READING!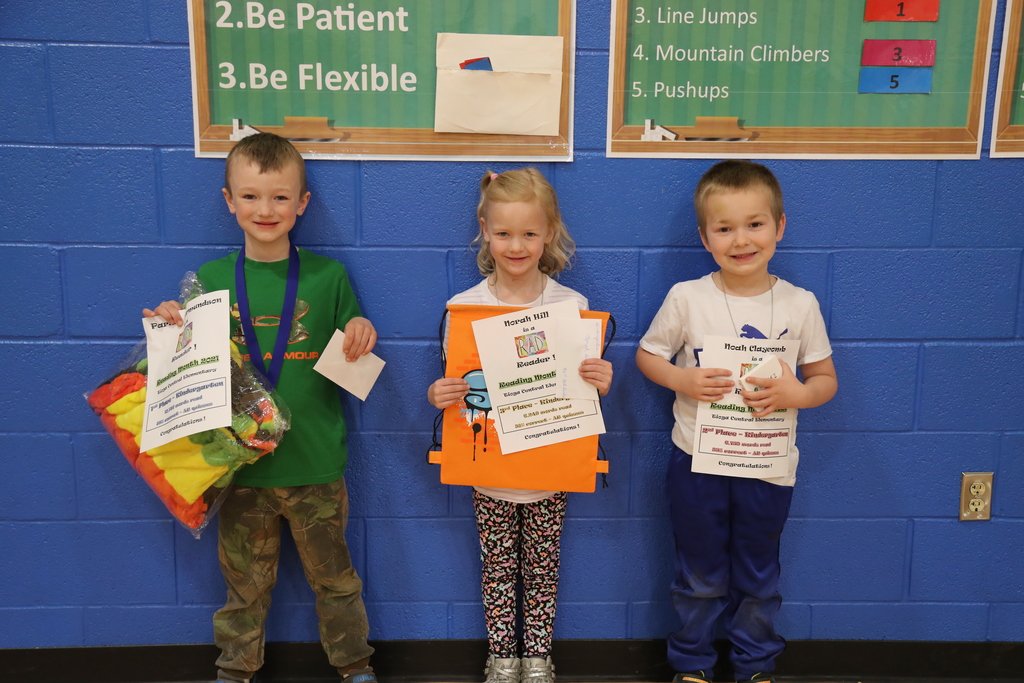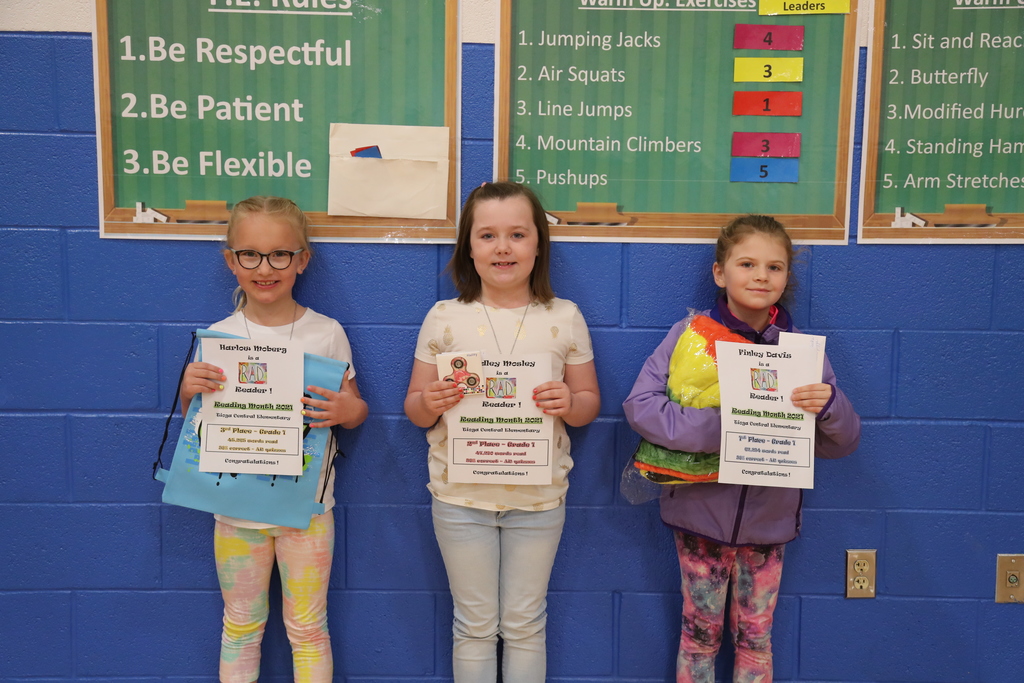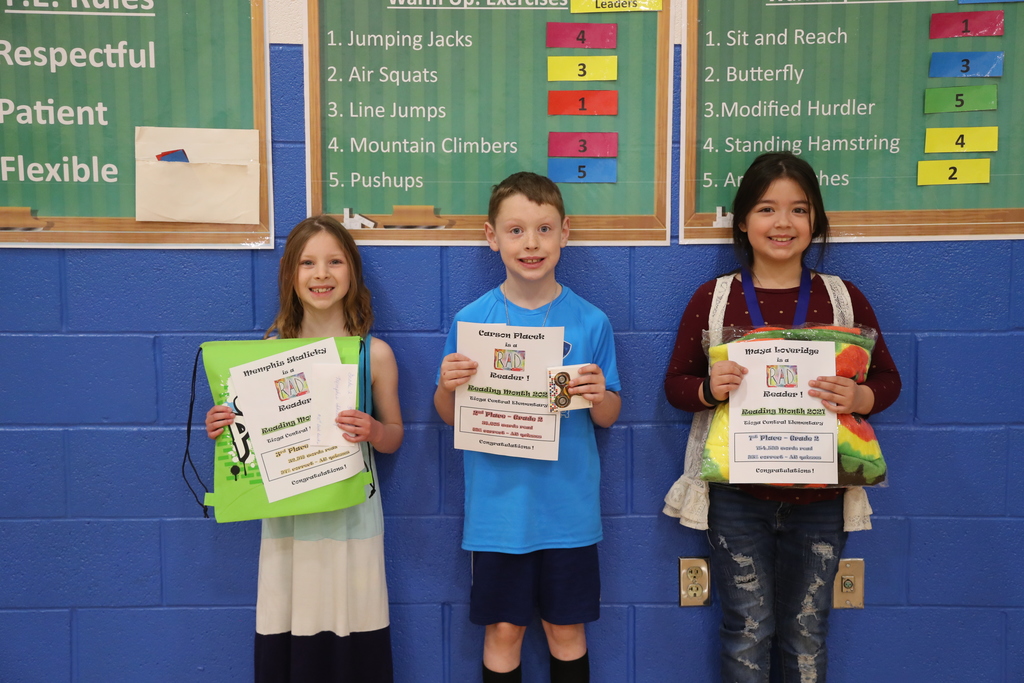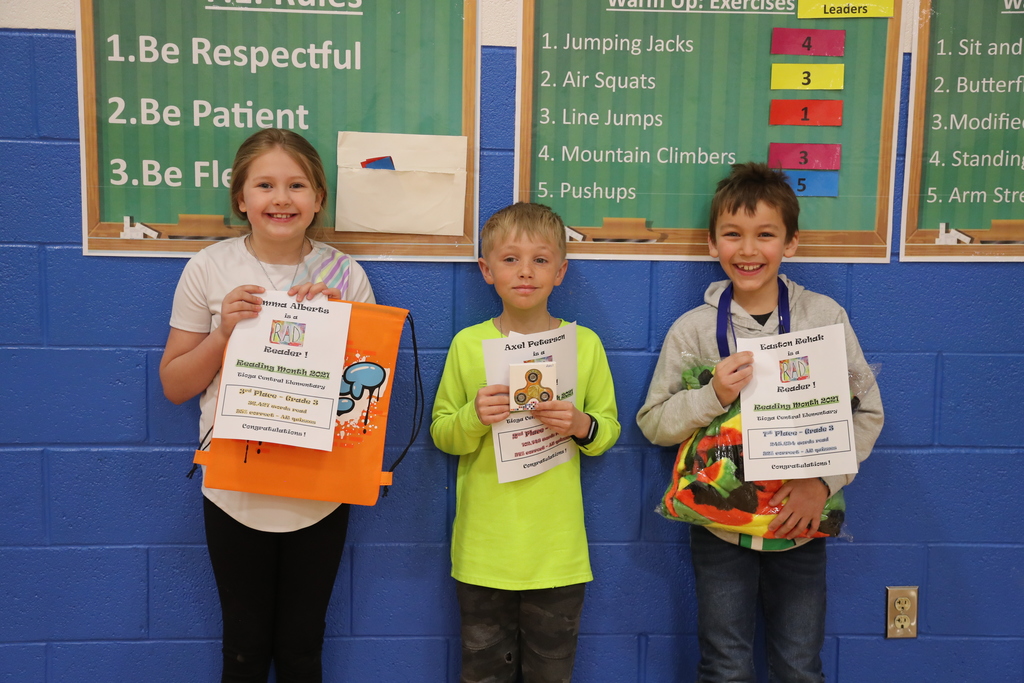 Congrats to the following Central Students on winning CSOTM for Trustworthiness in the month of March: Traelynn Celestine, Sadie Carkuff, Cora Seeyle, Brinley Knudson, Tayton Rice, Presley Rice, Kaitlyn Mora, Trynitee Brown, Kannon Schaffer, Kadence Kallberg, Lane Lenzen, Jaren Raan, James Meyers, Gavin Davidson, Brenna Hollingshead
Congrats to the following FBLA members that placed at the 2021 virtual State Leadership Conference!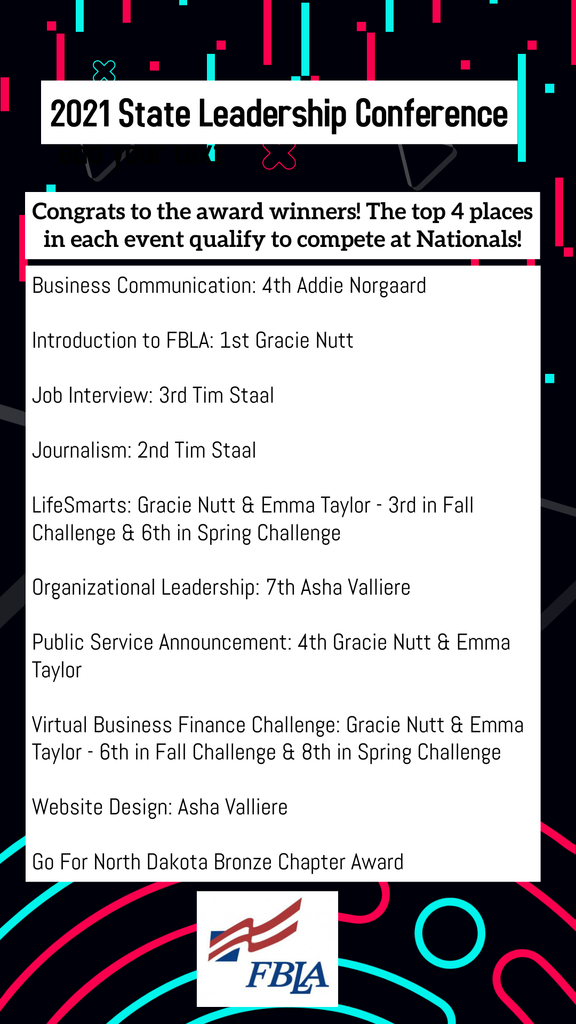 Tomorrow, Wednesday, April 7, Tioga High School, in conjunction with Tioga Police Department, will present a mock car crash at 1:00 p.m. for Tioga Juniors and Seniors to show awareness of the dangers drinking and driving and distracted driving. First responders, using lights and sirens, will travel to the high school where the crash will be staged. Please be aware that this isn't an emergency. Thank you!

The Easter Bunny visited Miss Molenda's class!!

Miss Molenda's class watercolor painting for the first time!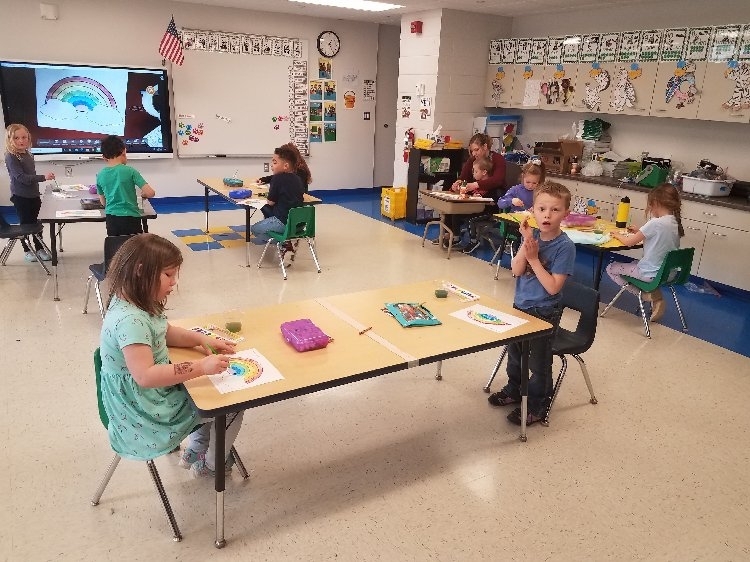 The Tioga baseball team spent the morning at the baseball simulator at the Williston Ark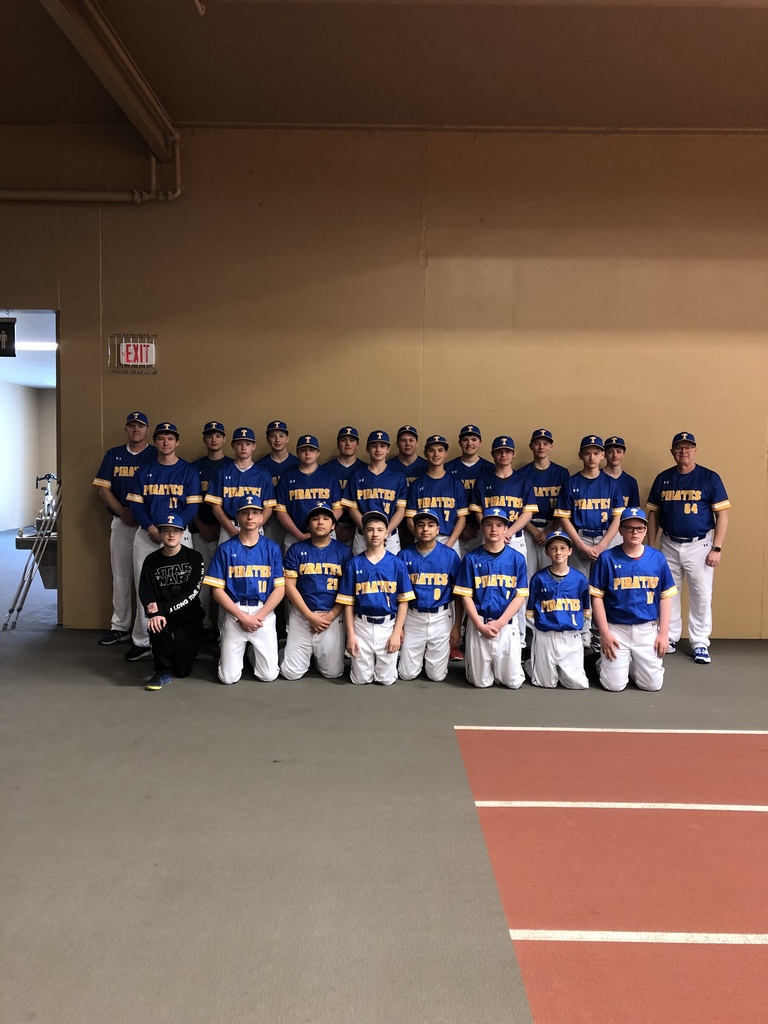 Mrs. Iverson's 3rd graders have been studying economy, earning money, and learning about banking. Today they got to cash in at the "movie theater".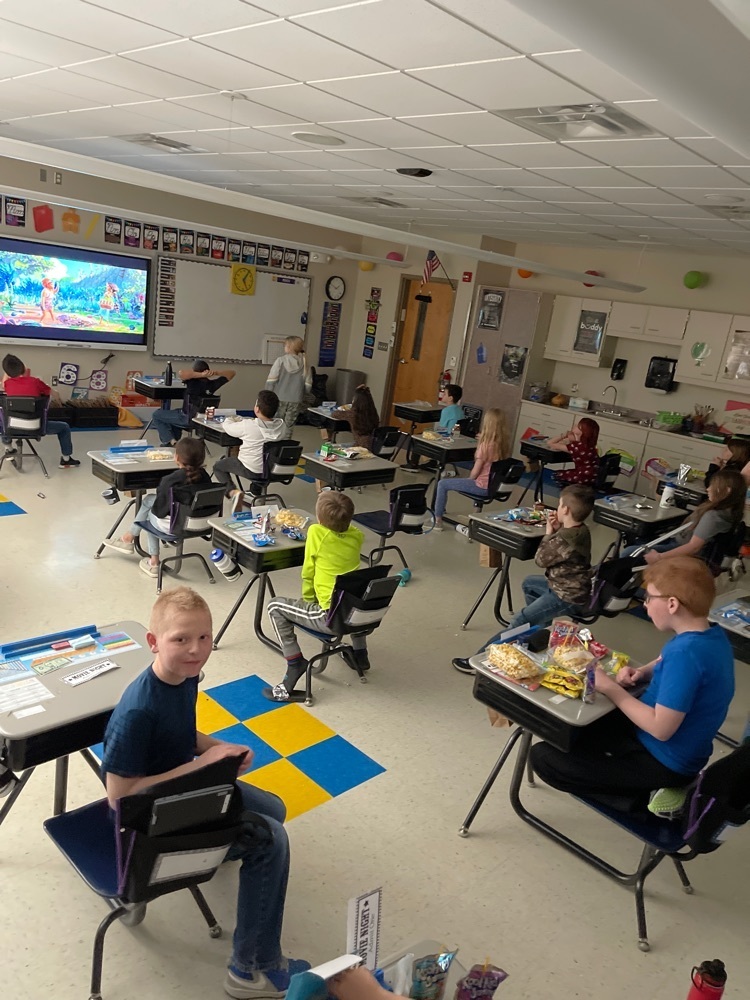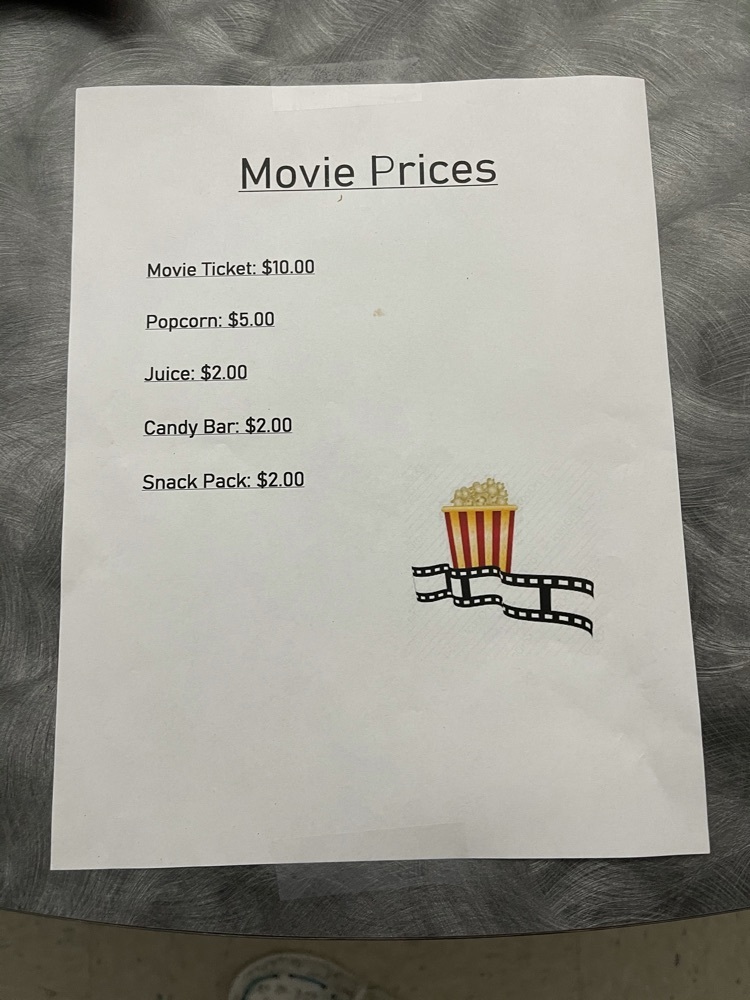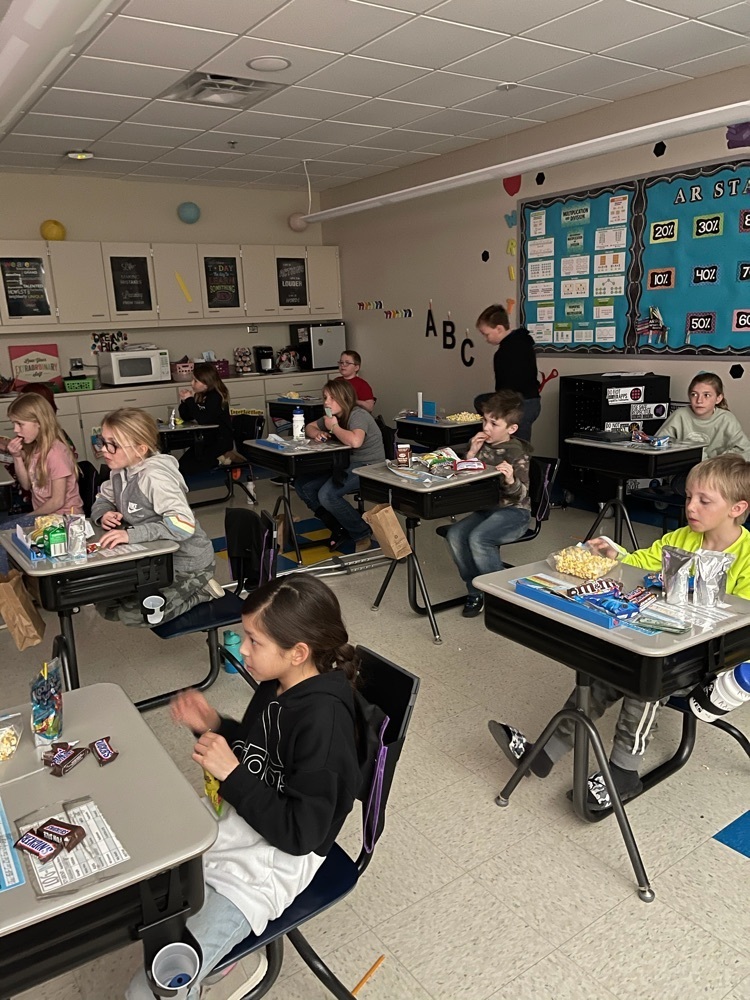 Congratulations to the 3rd Place Large School Academic Olympics team!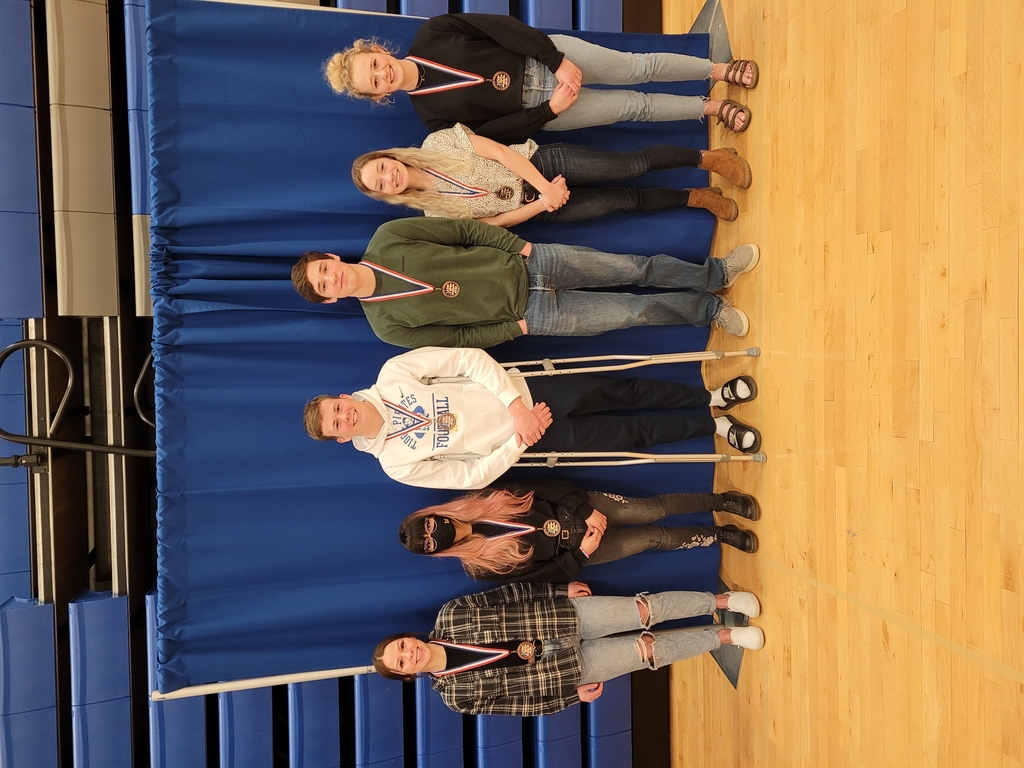 THS Seniors Emily R., Asha V., Maelyn S., Karter L., Tim S., and Addie N. are currently competing in the Regional Academic Olympics at South Prairie High School. After a tough couple of opening categories, they are battling back and making a run. wish them well as they hope to advance to the lightning round. Good job Pirates! We are proud of you!