For the month of February the pillar of the month was Citizenship. The following students were selected by their peers. Joel Holmen, Nicholas Wolla, and Hannah Haakenson. Congratulations to these three students!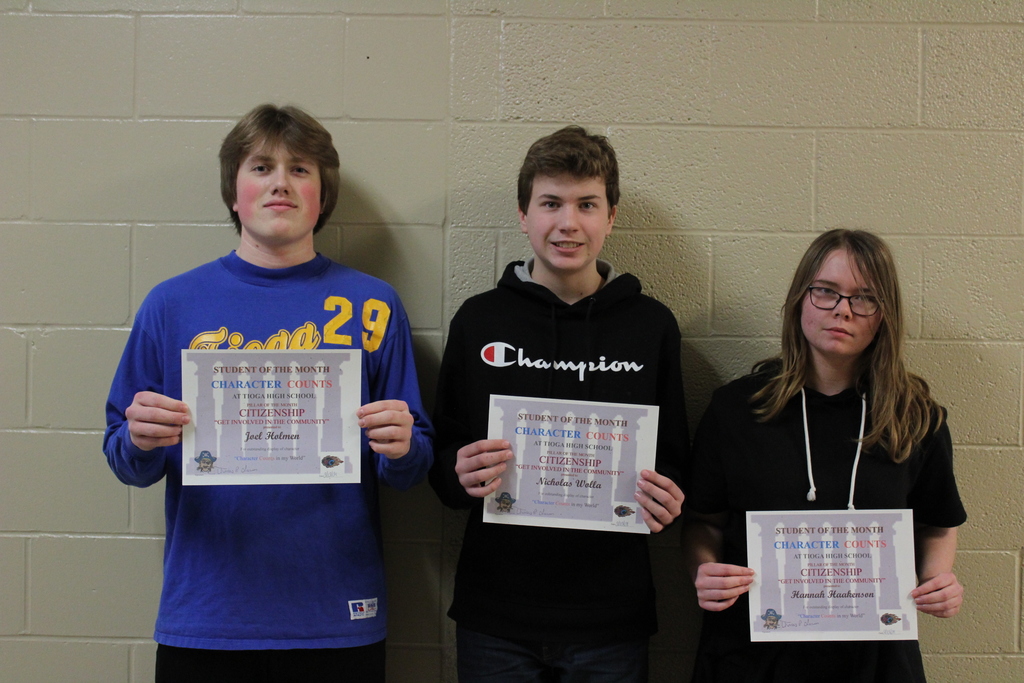 The Tioga Rec Council requires that all athletes in 4th-6th grades have sports physicals prior to participation in athletics. This is required for all sports provided through their rec programs. Please schedule a physical for your child if they have not had one yet. Contact Rec council for questions. Thanks.

For the month of January was the pillar of Fairness. The students of Tioga High School picked the following students. Congratulations to Madison Spencer, Katie Person, and Wyatt Rice.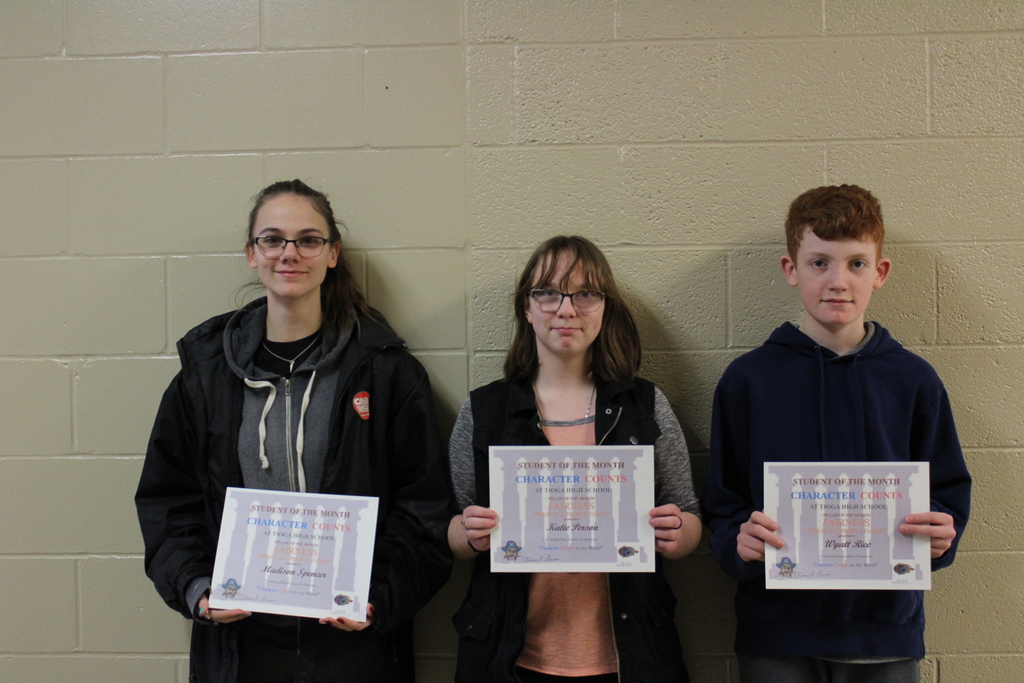 High school students: Remember this week is FBLA week! Tomorrow (Tuesday) is Squad Day, partner or group up with others to show off your best outfits. There will also be a bingo activity throughout the day. The FBLA officers will provide the bingo cards in the morning. Participating in either activity gets you a point closer to the dodgeball event at the end of the month!
Congratulations to Maelyn Sanders and Bethany Schmidt on their individual awards! Maelyn Sanders: -All District Team -All Tournament Team -Outstanding Senior Athlete of the Year Bethany Schmidt: -All District Team -All Tournament Team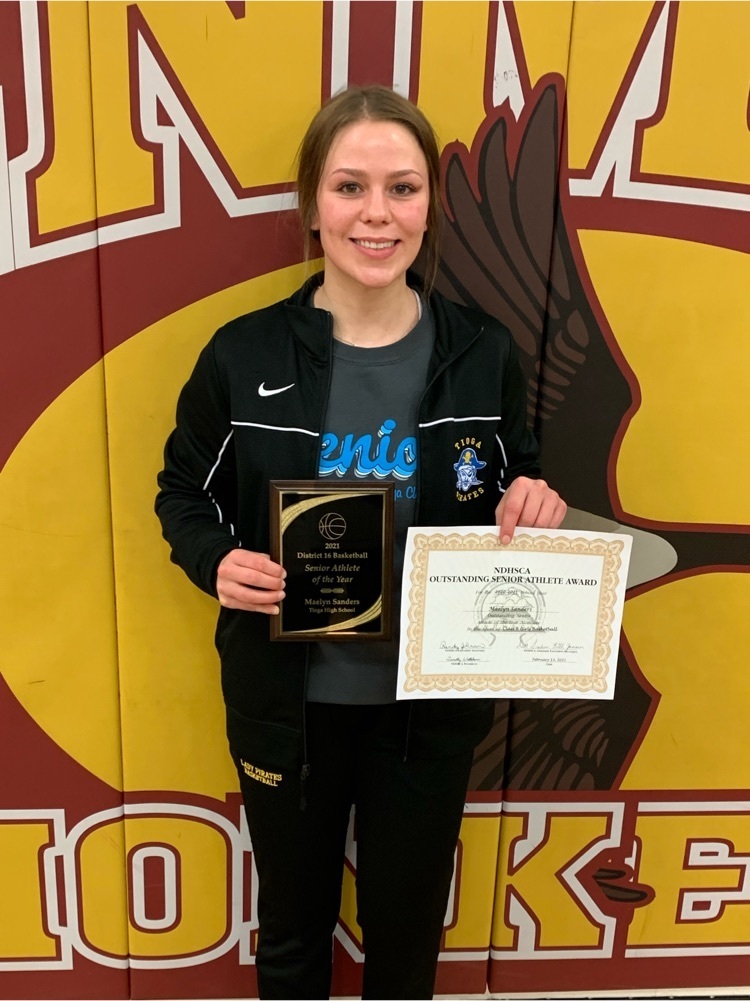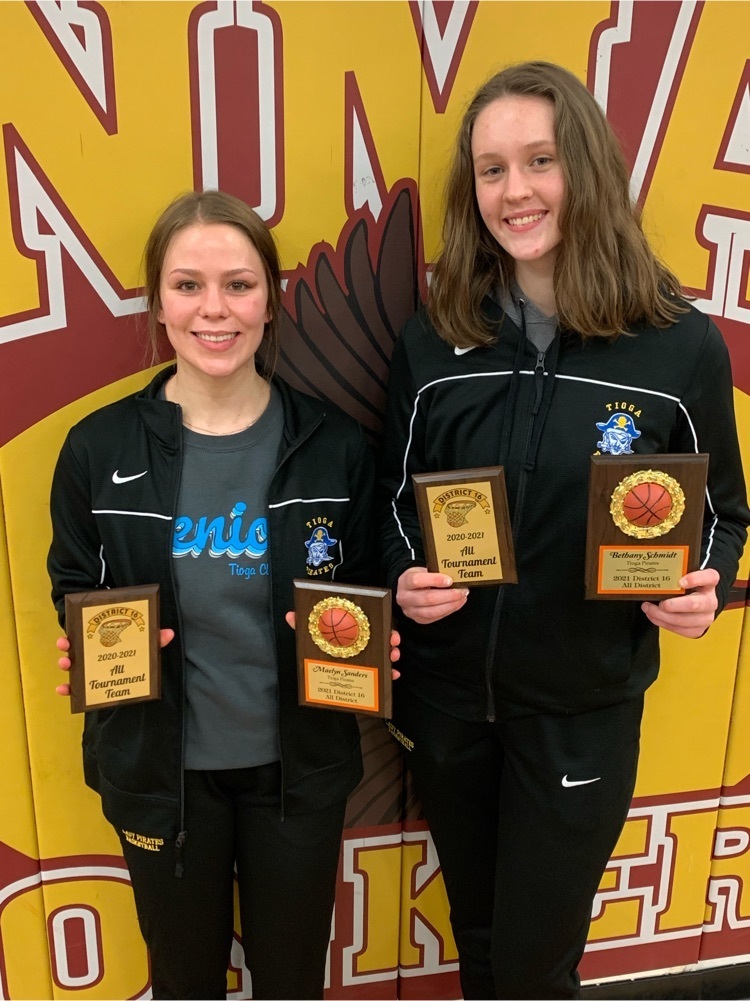 Congratulations Lady Pirates on your 3rd place District 16 tournament finish! Lady Pirates will play in Region 8 tournament on February 22nd!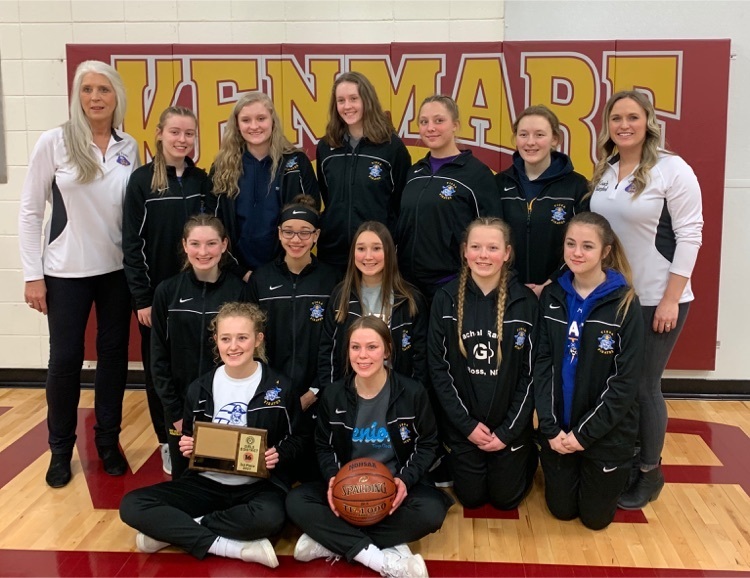 The #3 Lady Pirates will be taking on the #2 Divide County Maroons tonight at 7:30 in District 16 tournament action. If you cannot make it to the game, it is available to stream for free on Kenmare's YouTube page.

Message from Tioga Rec: We are excited to open the registration process for winter basketball for grades 4-6. Ben and Melissa Johnson are back and ready for another season. Please follow the link to register.
https://tiogarec.sportngin.com/register/form/391816752
The season is set to start March 2, 2021 with the annual players and parents meeting. Please be sure to add either 2021 4-6 Girls Basketball or 2021 4-6 Boys Basketball to your teams in the Sports Engine app. More information regarding practices and game times and locations will be pushed through the app.

This evening's JHBBB vs District 8 has been postponed until a later date. If and when a date becomes available it will be announced.
Congratulations to Kayla & Lily Nolte on winning this weeks Activity Bingo drawing! They will receive a $25 Red Moose and a $25 Visa Gift Card (Techneck Solutions). There are 2 more weeks to get your Bingos submitted for weekly drawings and one final grad prize drawing!
http://bit.ly/activitybingo2021
Activity Bingo is Tioga Lego Robotics(Bakken Builders) Innovative Project for the 2020-2021 season. Bakken Builders will compete at their Virtual Regional Competition on February 20th!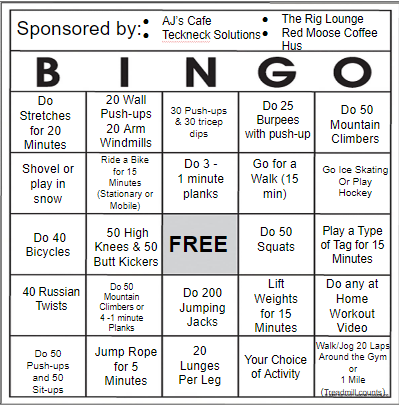 If you are unable to make it to Kenmare for the first round of the District 16 tournament, you can watch live coverage courtesy of Kenmare's YouTube channel. Tioga will be playing Ray starting at approximately 7:30 on Thursday. Also a reminder that Kenmare Public Schools still has a local Mask Mandate in place, even though the state mandate has been allowed to expire. Please honor the request of Kenmare Public Schools while attending the tournament.

February is CTE Month! We look forward to the fun activities planned this month! Check out this poster for details on FCCLA, FBLA, and FFA!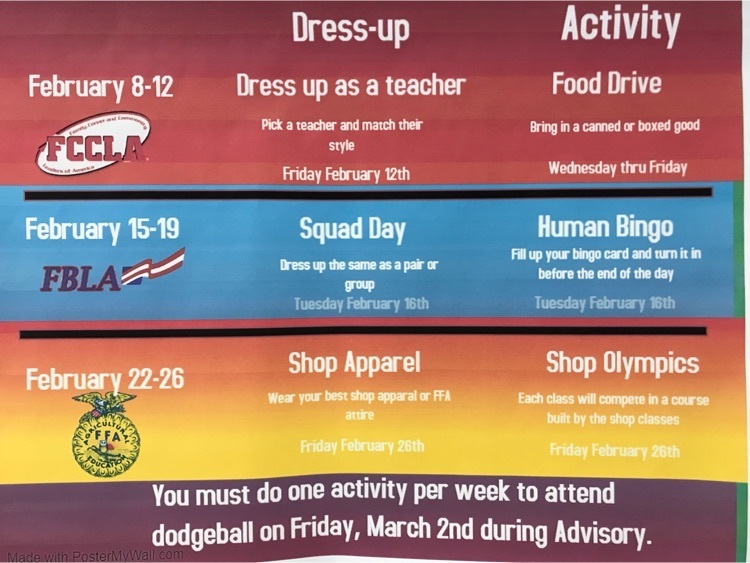 It is cold this morning, and our buses aren't happy about that! We're having some starting issues so the buses may be a few minutes late. PLEASE, MAKE your children DRESS WARM today, especially the bus kids. Long pants, hats, gloves, coats, etc. so if the buses stall, kids will stay a little warmer. Of course, we will go out and help, but it takes time to get to the bus, and we are taking precautions on our end just in case. Thank you!

Congrats to the following Central Elementary Character Students of the Month for January. It was Fairness. Traelynn Celestine Edgar Rubianes Lola Pachel Cason Neset Skyler Weisz Aubree Volbrecht Jerol Gohrick Jaxon Keller Isabella Slough Bryson Lalim Sophia Fladeland Gracie Melberg Nora Hanson Marriane Reyes Brackon Jackson

The Girl's District 16 tournament begins next Thursday with the Pirates earning the #3 seed. They will be playing the #6 Ray Jays at 7:30 in Kenmare. The games will be available to stream online through Kenmare's YouTube channel. There are no attendance restrictions at this time. Masks are highly recommended due to expected crowds.

Awana club is at regular time and location tonight Wednesday, February 3rd. Due to weather conditions we will postpone Snow Carnival, new date will be Wednesday February 17th from 6:30-7:30pm at the park. Any questions contact Awana. thanks

Greetings! The Great Plains Food Bank Mobile Food Pantry will be stopping in Ray and Tioga on February 19th. See attached flyer. Hunger is an issue that we can do something about. Here are several ways you can help: Volunteer! Volunteers are CRITICAL right now – we need you! o REGISTER HERE! Once you are registered you can sign up for a slot at a Mobile Food Pantry near you! Spread the word! Post the flyers around town, share the attached JPG on your social media networks, or talk about the events with those you know! Respond and share to Facebook event links to get updates and reminders! Anyone in need of food assistance from any community is welcome to attend! We will ask clients to complete a short intake form onsite, then drive through the distribution line. We will ask clients to remain in their vehicles at all times and wear masks while interacting with staff and volunteers. We welcome those who cannot attend to designate someone to pick up for them. Volunteers will be asked to sanitize, wear masks, and follow social distancing guidelines.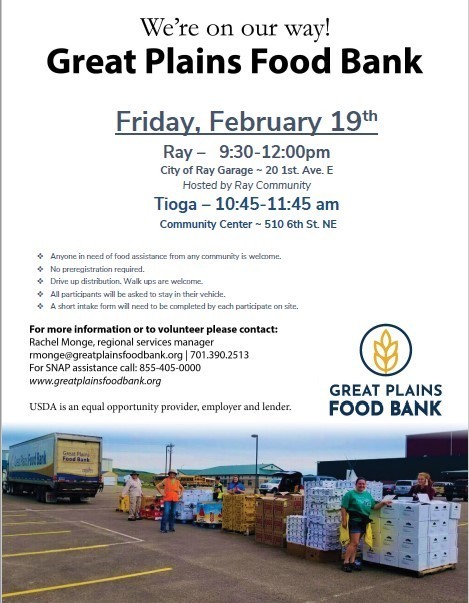 As yesterday was the 100th day of school, Miss Heier's class did a 100th day ESCAPE ROOM!! They practiced their math skills while using teamwork and problem solving to break the codes. Both teams were successful and escaped!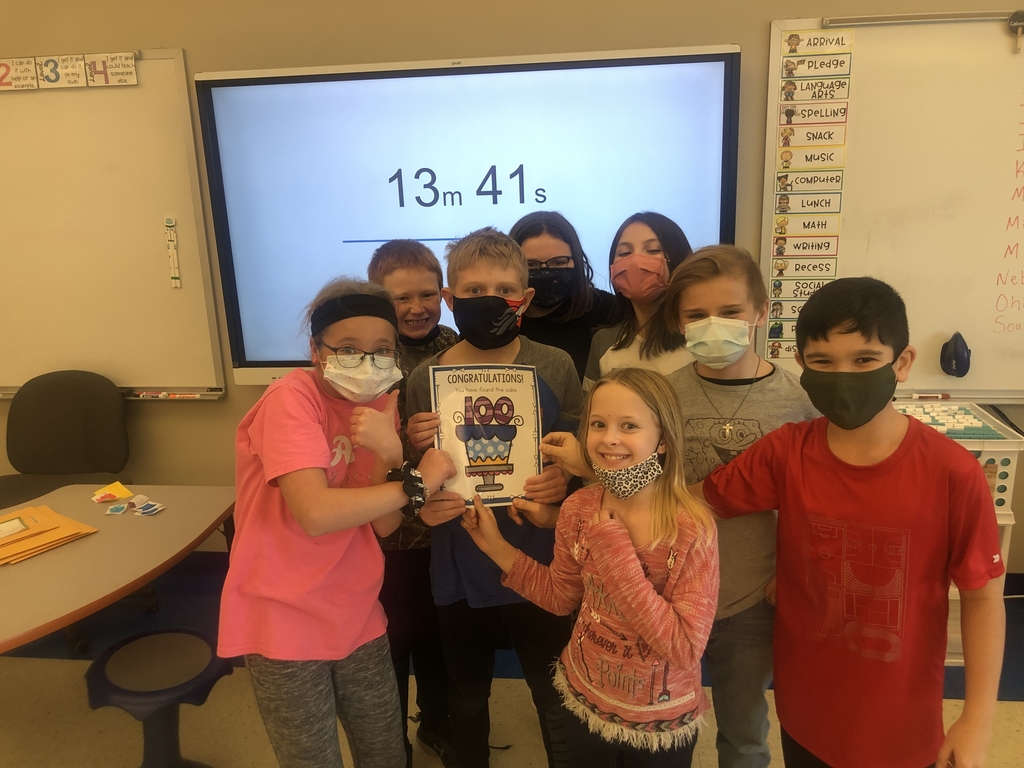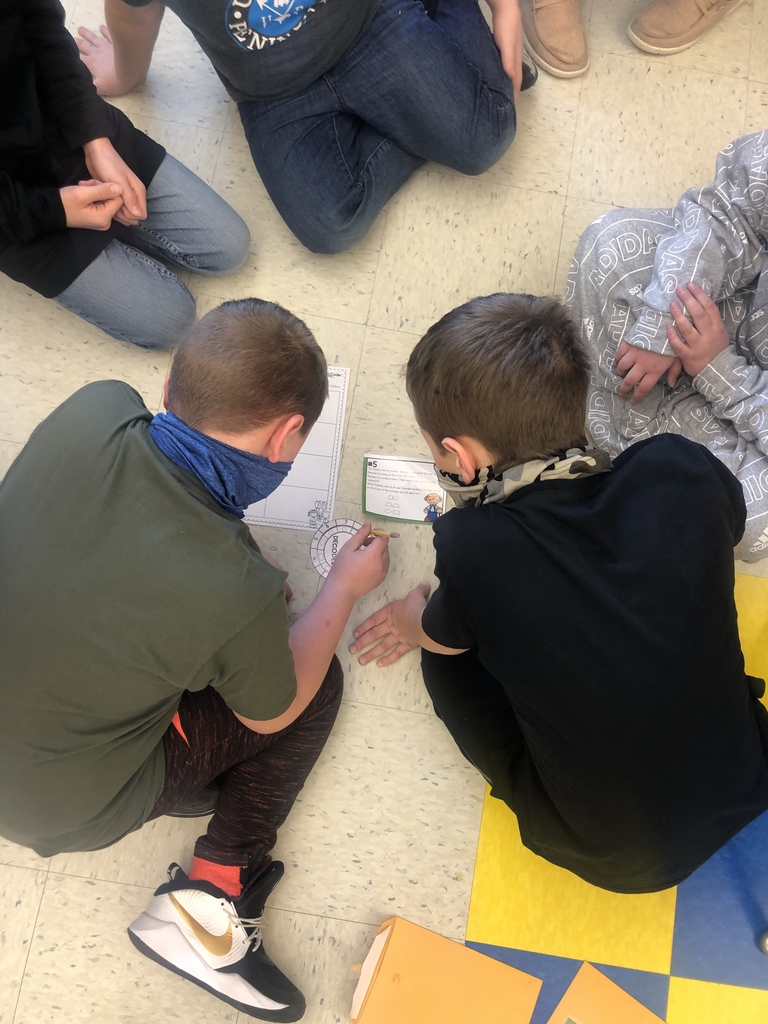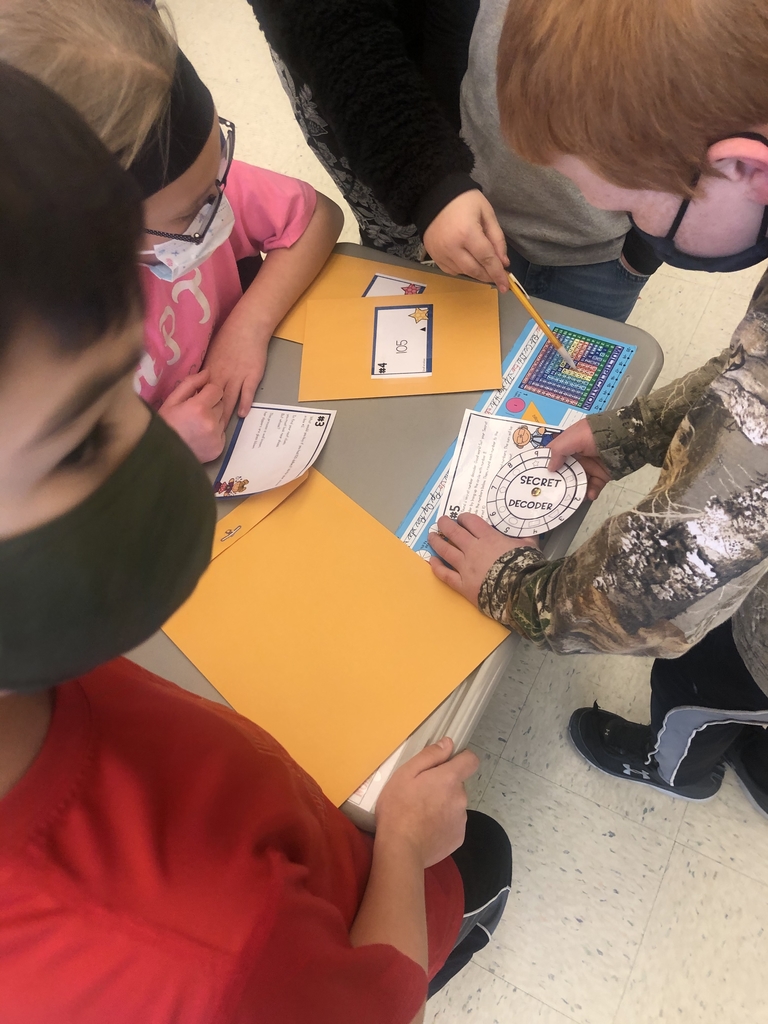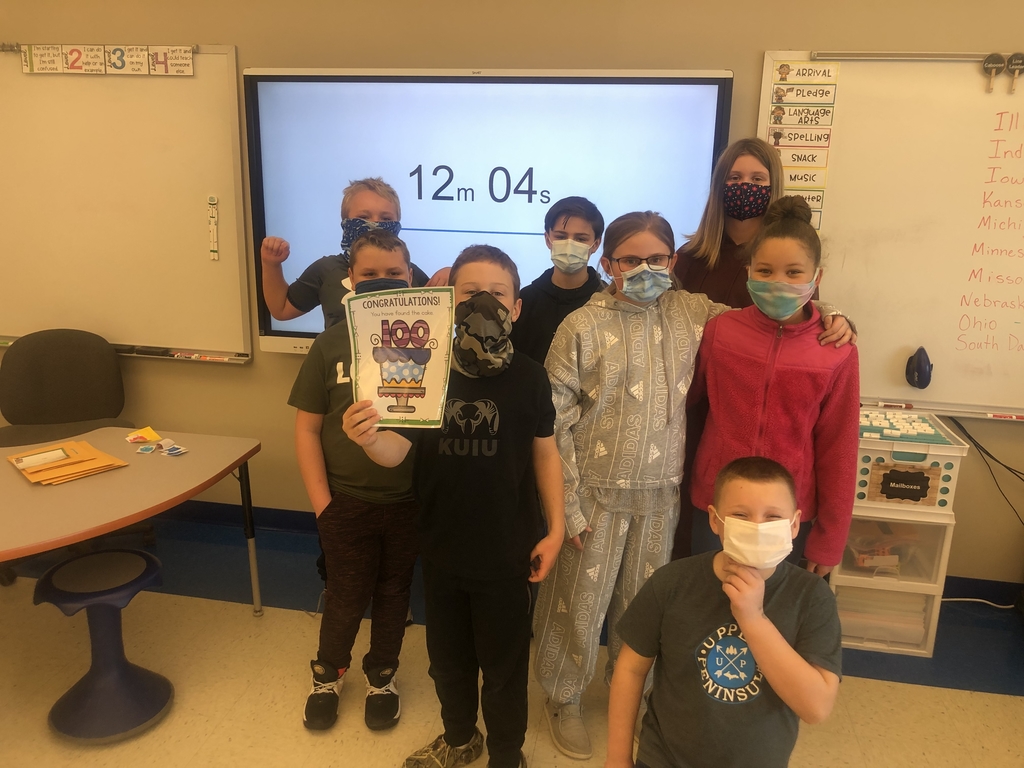 Miss Molenda's class celebrated the 100th day of school by dressing up as 100 year old Grandpas and Grandmas!