THS Activities - What we know...and what we don't! No activities today. Wrestling tonight at Velva - Postponed. Reschedule ?- TBD as a date will need to be made to make up the dual with Velva. GBB tonight vs Trenton - Postponed. Reschedule - TBD. BBB @ Stanley. Today is postponed. Stanley is working at scheduling the rest of the tournament over the days of the next two weeks - not easy with 8 schools involved. Wrestling @ Linton Fri./Sat. - Not looking promising. Coaches will be in touch with wrestlers. When more information is known, coaches will share with their teams. Stay safe all!

NO SCHOOL in Tioga today, Thursday, December 15, 2022. We will hope to go tomorrow. Stay safe and warm.

School will run 2 hours late in Tioga on Thursday, December 15, 2022. No breakfast will be served. Buses will also run 2 hours late, but may be a little later than that. Please drive carefully and look for updates on the Tioga app. We'll see how much it snows and blows tonight

NO SCHOOL or activities in Tioga, ND today, Wednesday, December 14, 2022. Please stay safe and warm.

Wrestling is no practice after school - open mat for those that choose. Varsity girls and Varsity boys will split the high school gym right after school. JH girls will practice right after school at Central. No JH boys practice tonight. We hope for all to be out of the buildings early and on their way home safely. If any parents are concerned and not having children attend practice, please contact their coaches.

Central Parents that ordered Art to Remember. It is in and FaT C has delivered it to your child to bring home today after school.

Tuesday, Dec. 13th Lions Boys Basketball tournament games in Stanley have been postponed to Thursday. Games are moved back one day adding Saturday to play final day games. Be flexible. Be safe.

Fundraiser items. Remember that there are no frozen items so you can wait until Monday to distribute. A copy of the student's order form along with an inventory list of what they sold with descriptions will be in each student's box or bag of products. There is also a toll-free number that you, parents and customers can call if they have missing or broken items....1-888-816-1112. That number is on all the student forms.

The Central fundraiser items are here. If your son/daughter sold items for delivery, you can stop by the office and pick up the items from now until 4pm. Please come in door #1 and stop in the office. If you do not pick up today, we will send home items with students tomorrow. Thanks to everyone that helped with the fundraiser.

JHBBB today at Divide County has been postponed until a TBD date.

Congratulations to the Pirate Boys Basketball team on their season opening 76-37 win over Max today.

Boys Basketball begins tomorrow at 1pm at Tioga! The JV game will only be two quarters tomorrow with the Varsity game starting 20 minutes after the conclusion of that game. Cheer on the Pirates as they take on the Max Cossacks!

The Tioga Lady Pirates defeated Divide County 75-37 this evening, improving their record to 4-0 on the season. Keep up the great work ladies!

Reminder Central Concert for grades 1-3 tonight at 6pm. Doors will open at 5:30pm. I will have door number #1 and #8 open, along with door #2 if you want to park on main street and cut through the playground.


Don't forget to drop gifts off for the FBLA gift drive! Bins will be located at Tioga High School and Central Elementary until December 9th. Thank you for your participation!! 🎄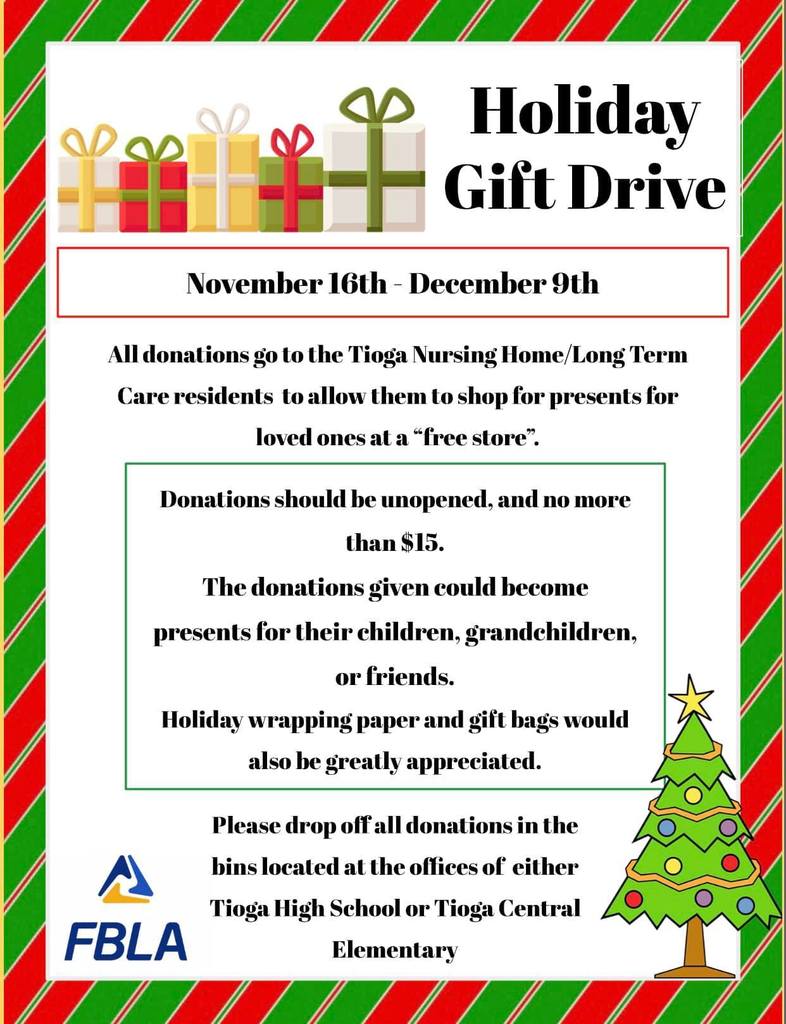 Volunteers needed to help at Gateway to Science assembly for K-6 students at Central. This is a great way to work with students here at Central. I am still looking for 9 volunteers for Friday, December 16th. You would need to be here from 8:30-3:45. We will be feeding you BBQ rib sandwich/french fries/frozen fruit cup for diner!!!!! If you can volunteer please contact Mr. Schaffer at 701-664-3441 or email at
tim.schaffer@k12.nd.us
Tioga FFA had a day at Districts. Tioga won both quiz contests with Abagail Ferguson and Wyatt Rice taking first in GH quiz and Jeni Hanson winning regular quiz. The parli pro team also took 2nd and qualified for state with Payton Raan and Emma Taylor winning officers of the day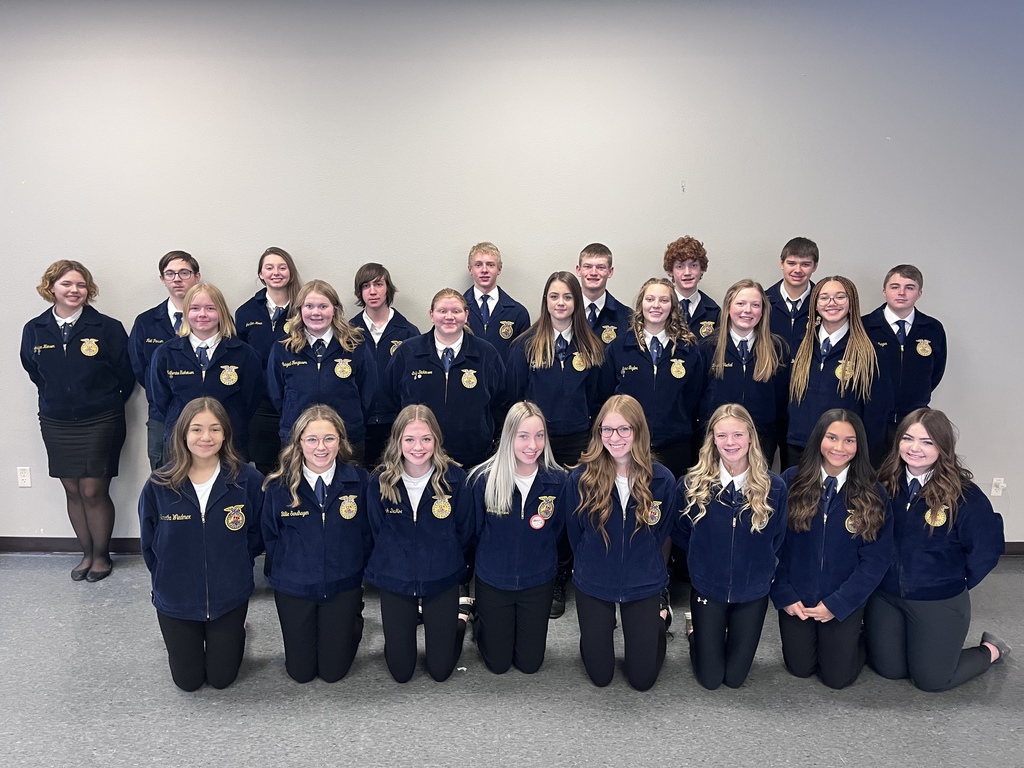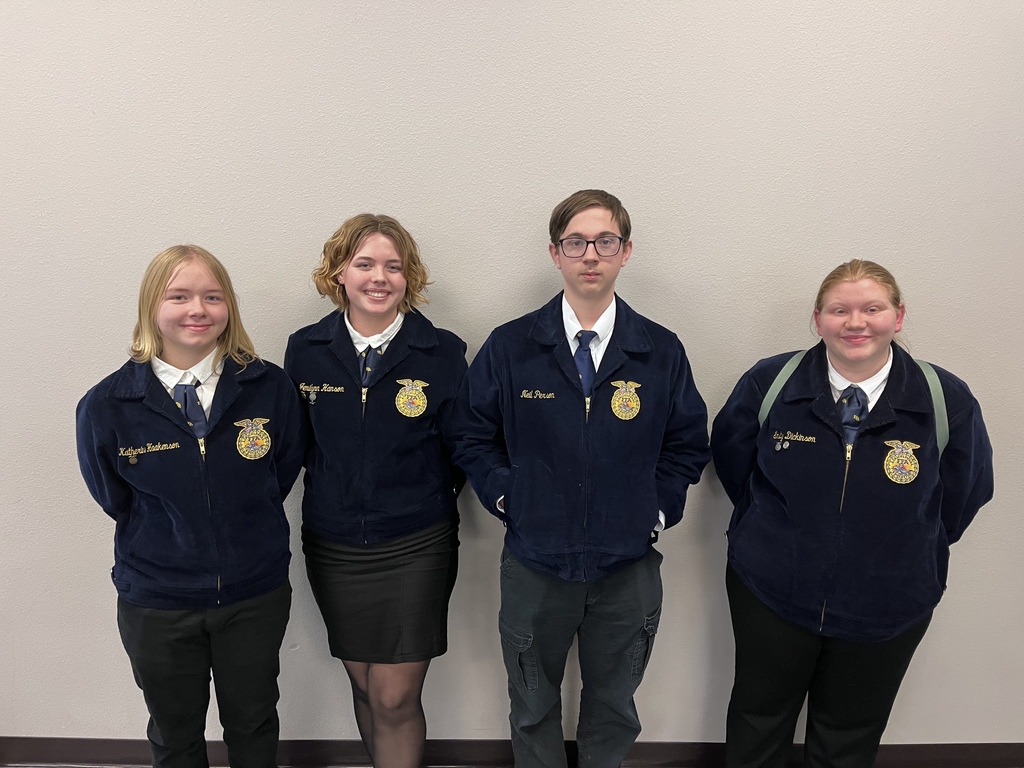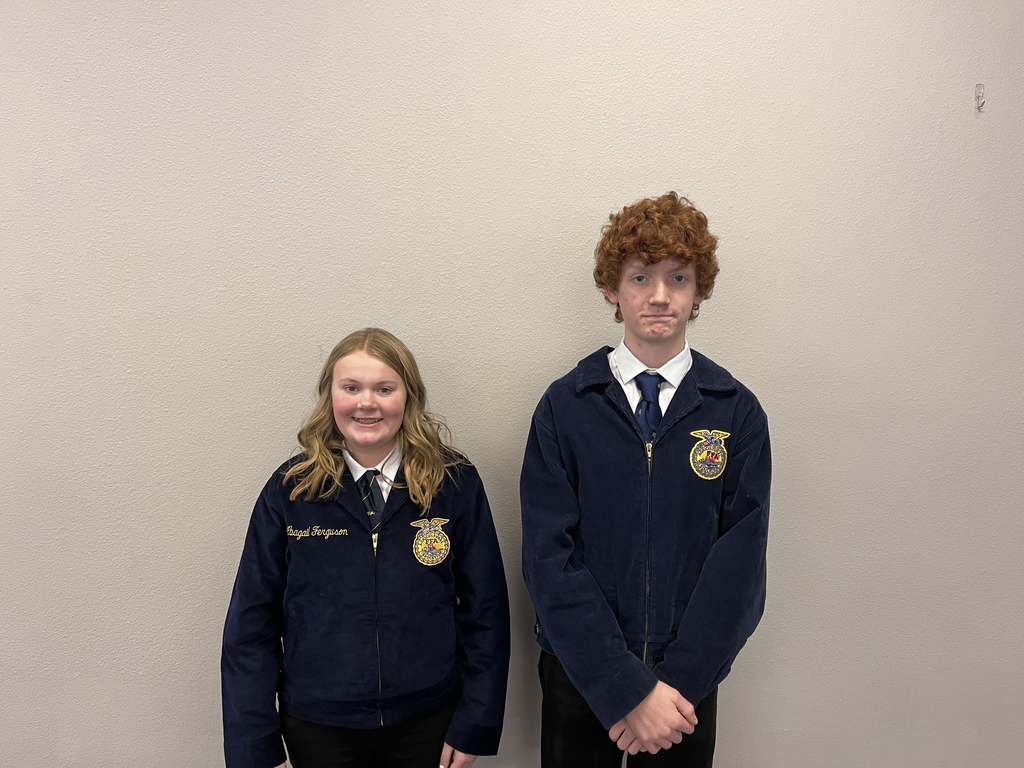 Thanks to everyone that participated in the FBLA activities during the Magical Main Street Christmas. Congrats to the winners of the coloring contest and scavenger hunt!