Mrs. Germundson's Kindergarteners celebrated the 100th day of school by dressing up like 100 year old Grandmas & Grandpas!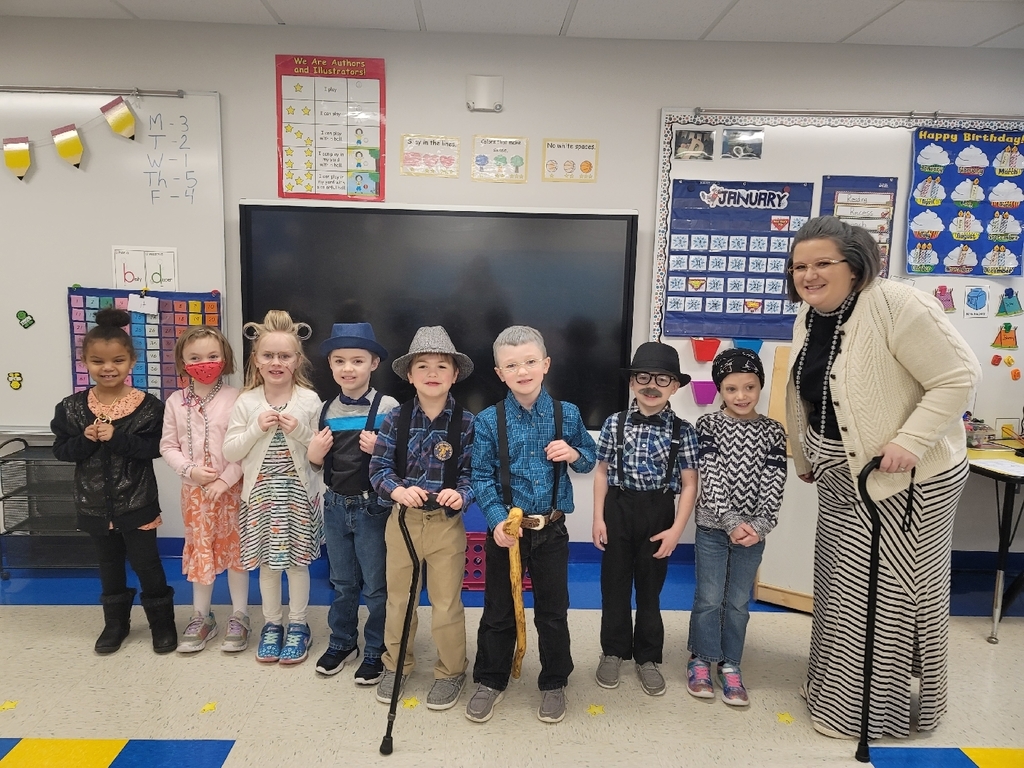 Central Elementary and Tioga High School are hosting Parent-Teacher Conferences on Monday, February 8, from 4:00 p.m. to 9:00 p.m. person-to person. Parents are invited to attend with any child that is required to attend conferences with a parent. We ask that children not directly involved in conferences do not come with parents. If a teacher requests that you and your child wear a mask, please be respectful and do so. Thank you.
Tioga High School is seeking a boys' baseball coach for the Spring 2021 season. For more information, contact Ryan Albrecht, AD, at (701 )664-2333. Open until filled. EOE

DARE class 2021 Graduates of Central Elementary School 5th grade students in Tioga, ND with SRO Amy Nickoloff from Williams County Sheriffs Department. Drug Abuse Resistance Education (D.A.R.E.) is an education program that seeks to prevent use of controlled drugs, membership in gangs, and violent behavior. Mrs DeMoe DARE report winners 1st place: Ethan Yu 2nd place : Julia Kingston Mrs Mosley DARE report winners 1st place: Lila Myers 2nd place: Weston Miller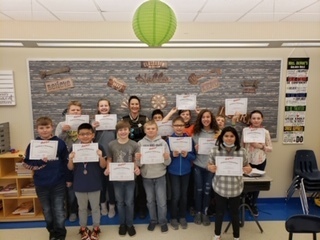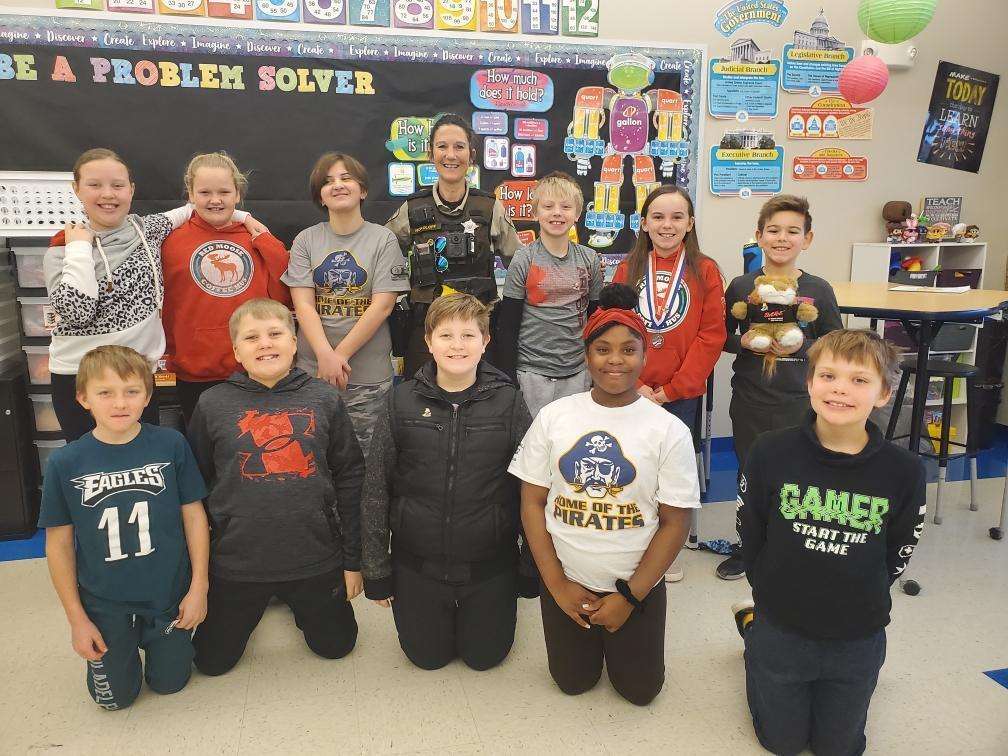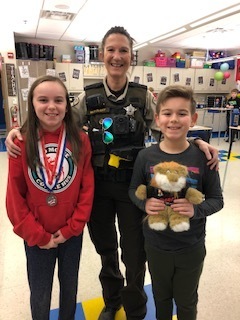 For all attending tonight's GBB game at Divide County, we have been informed that their school has decided that masks are required in order to attend. Also, Divide County will have limited concessions available for tonight's games. Good luck this evening Lady Pirates!

There will be a mandatory meeting for all players and parents interested in softball and baseball this Wednesday evening in the school cafeteria. Softball will be at 6pm and baseball will follow at 6:15. If you are unable to attend please get ahold of Ryan Albrecht at the High School.
Our phones are working now! Thanks for your patience!
The telephones at the High School are not working right now. We are troubleshooting and working with NCC. Hopefully, they will be working soon! Thank you!
As a point of clarification, when social distancing is not possible in the classroom, students may be asked to wear masks to include small group work in classrooms. Some questions have been raised concerning wrestling and basketball where students are not masked up. Extra-curricular activities aren't governed by school attendance laws, and therefore, are optional. The virus hasn't disappeared, and even though the mask mandate is lifted, we still need to follow the social distancing, hand washing, etc. guidelines. Contact tracing will now happen, too, if a student that attends school is positive and there is no social distancing or if both parties aren't wearing masks. The only change is masks are not mandated. Thank you.
After Governor Burgum's announcement that the executive order for the mask mandate has expired, masks will NOT be required during school. We still ask students and staff to social distance, wash hands, and take precautions when the 6 feet social distancing is not possible to maintain. Masks are optional at Tioga Schools starting Tuesday, January 19. Please continue to take precautions such as social distancing and handwashing, and let's work together to keep our kids in school and participating in sports and activities. Thanks to all that cooperated during the mask mandate. We should have information in the next few days as to how this affects fan attendance at activities.

For this weekends Rugby Wrestling Tournament the following placed: Aaron Brimhall 106lbs 1st Place Cristian Lagunes 126lbs 1st Place Ethan Wonser 132lbs 1st place Rocker Aguilar 136lbs 6th Place Jayden Slough 145lbs 8th place Leyton Brunelle 156lbs 6th Place Dylan Tabbert 160lbs 6th Place Parker Sandstorm 170lbs 2nd Place Clayton Grove 182lbs 5th Place Keaton Brunelle 220lbs 5th Place Congratulations to all the wrestlers this weekend and the fans for the support! Have a great rest of the week!

Tonight's GBB game vs Alexander will be available to watch on Alexander's school facebook page. Game starts at around 7pm. Good luck Pirates!
The buses will NOT run this morning, January 14. At this time, we plan to run the routes in the afternoon. School will begin at 10:30 this morning.
Tioga Public School District will start 2 hours late today, January 14. Buses will also run 2 hours late. No breakfast will be served today.
Prom dress exchange sale
New Activity Bingo! Get active in 2021! Small changes are that the card will stay the same as well as where to submit your bingo! You can still submit 3 unique bingos a week! We tried to simplify the activities to make them more available to everyone to participate! Winners drawn every Monday! Got some great prizes to give away!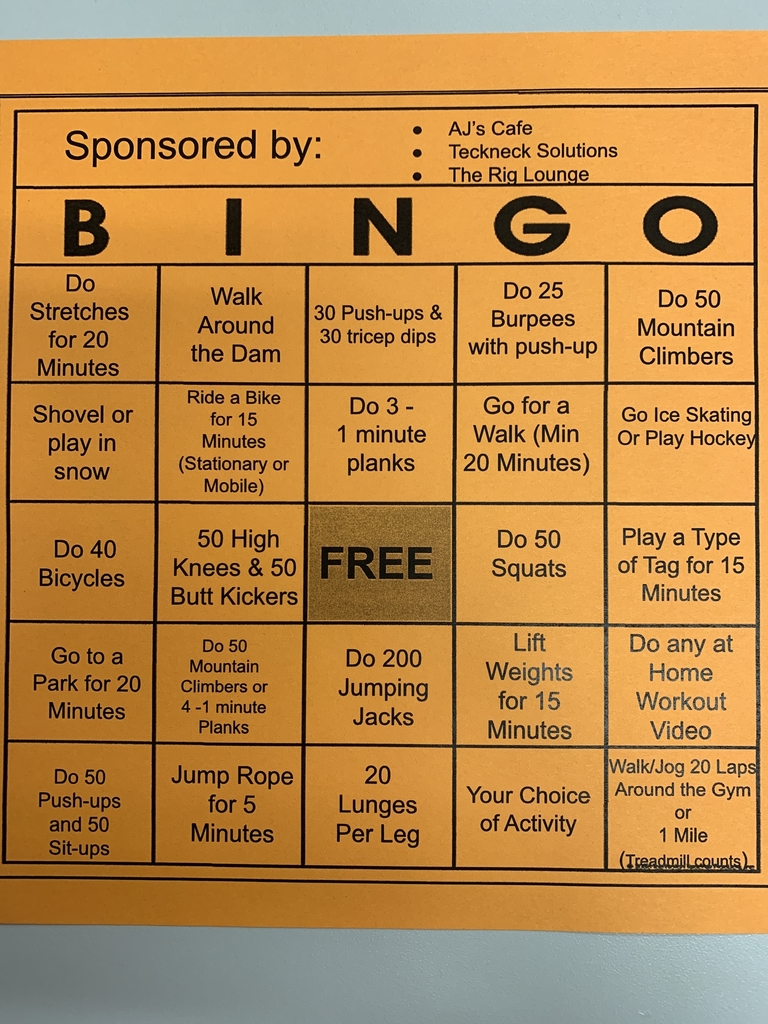 Apologies to those trying to stream the Lady Pirates GBB game vs NS-P. NFHS Network is showing it as being "delayed". We have been in contact with them and hope to have it resolved soon. Go Pirates! I won't spoil it, but the Pirates are leading after one quarter of play!

Here are the CSOTM winners from December at Central for caring: Tyler Tucker Malia Weigel Finley Davis Harlow Moberg Lexi Lesmeister Dustin Cote Amber Copeland Ariana Caniglia Ashlyn Foss Peyton Tinnes Vade Samms Lila Myers Triden Lambert Kaylie Caniglia Kiya Sparks
This Week's Home Wrestling Events!! Thursday Night DLB/Minot Ryan/Williams County starting @ 5:00pm. We are limited to 160 home fan tickets for this event! Please stop by Tioga High School for your tickets or you can call Jayme @ 664-3606 to reserve yours. Full concessions will be served by FCCLA. Friday Night Williams County Junior High Mixer starting @ 4:30pm. We are able to have 500 fans in the stands so no tickets will be necessary. The Firestorm Wrestling Club will be serving full concessions for their fundraiser at this event and we ask for your support! Saturday Williams County Firestorm Varsity Tournament starting @ 11:00am. We will be able to have 500 fans for this event also so no tickets necessary. The Firestorm Wrestling Club will be serving Full Concessions for this event also and ask for your support! Hope to see everyone at Tioga High School and come out and support the wrestling team!! Go Firestorm!!
The Juniors still have Pirate bracelets for sale. They can be adjusted to fit all wrist sizes. There are multiple color schemes available. All proceeds go towards the 2021 Prom.
https://forms.gle/fSaHgPNawY7j3zRU7